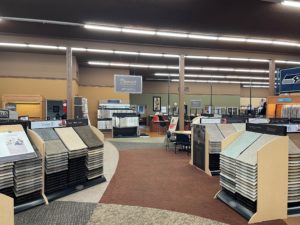 FCNews 2nd annual FCNnovation Awards winners
FCNews has announced the winners of its second annual FCNnovation Awards —a program designed to recognize and showcase some of the most innovative new products and technologies unveiled in the current year. These awards honor groundbreaking ideas and industry-changing concepts that have the potential to impact the way flooring is manufactured, promoted and sold.
Following are the 2022 winners:
Carpet
Premier Flooring Center
The Dixie Group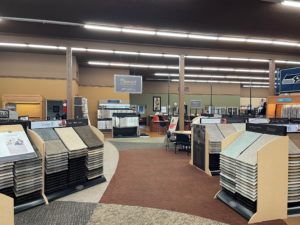 The Premier Flooring Center (PFC) is a multi-faced selling system from The Dixie Group that effectively replaced the Stainmaster Flooring Center following the Lowe's acquisition. At launch, more than 200 flooring retailers agreed to take on the Premier Flooring Center, which emphasizes a best/better/good selling strategy with nylon 6,6 being the "best," nylon 6 the "better" and polyester the "good."
"For consumers, PFC will be the easiest, most confident way to buy while saving time, money and hassle," said Pami Bhullar, vice president – business development at TDG, who helped develop the system.
For retail sales associates, PFC is intended to be the easiest way to sell flooring—with confidence and simplicity. "Every step in the selling process is repeatable," Bhullar said. "And if it is repeatable, it is improvable. And if it is improvable, it is perfectable."
The selling system's best product is nylon 6,6—which includes Dixie's EnVision 6,6 fiber. However, the system is not limited to one brand or fiber. That makes it different than Stainmaster, which used only the Invista fiber.
Carpet
L.I.O.N. Yarn System
Stanton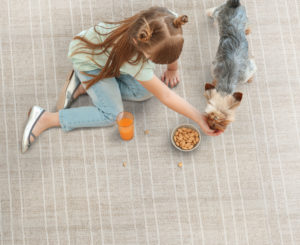 Crafted from the finest quality materials and utilizing the most innovative technology, Stanton's L.I.O.N. (luxury indoor outdoor nylon) yarn system was launched in 2023 under the mill's Rosecore brand.
Recognizing the demand for luxury performance, Stanton started development of this proprietary solution-dyed yarn system nearly three years ago. "The durability, fade resistance and easy cleanability make L.I.O.N. the ideal solution for individuals who live active lifestyles and families with children and pets," said Christine Zampaglione, senior director of marketing for Stanton. "With a super soft hand and brilliant shine, these products exude elegance and refinement."
L.I.O.N. products are made from super soft nylon, which is solution dyed, with added UV stabilization to achieve the ultimate performance capabilities. Bleach cleanable, fade and stain resistant with high shine and luxury, L.I.O.N. is hoping to raise the bar in the performance category while leveraging the high style and design of the Rosecore brand.
Resilient
True Grout
i4F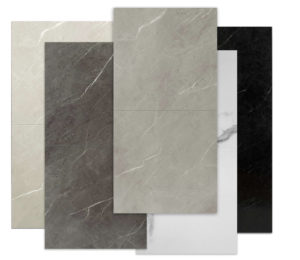 i4F continues to drive innovation with True Grout on SPC/rigid core tiles and planks offering steadfast durability as well as a middle grout line mimicking two tiles in one. i4F's exclusive patent partnership with Quickstyle Industries gives i4F sole licensing rights for the True Grout patent portfolio in all major markets worldwide, including the U.S., Europe and Asia/Pacific.
Durability on rigid core products featuring True Grout technologies is maximized due to the addition of a colored wear layer between the décor film and the core. Since grouts are directly milled into this additional wear layer—available in any color—the risk of grout damage, color deviations, staining and the gathering of mold is eliminated. This increased resilience outperforms both v-groove and traditional ceramic grouts in terms of wear and tear.
"Achieving robust aesthetics while virtually halving the installation time is another example of how i4F is bringing to life its vision to enhance where people live, work and play with ingenious technologies from the floor upward," said John Rietveldt, i4F CEO.
Resilient
Rigid Core
Välinge Innovation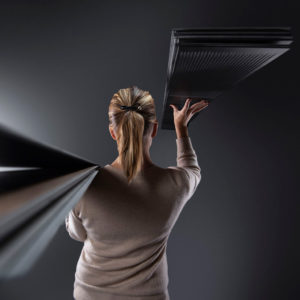 Välinge's premium rigid core floor is a game changer in rigid core flooring. It has been carefully designed to provide the look and feel of true Scandinavian oak while withstanding the rigors of everyday life. The innovative 5G Dry locking system makes the floor fully waterproof but also protects the installation. This means no water leaking to the subfloor through the locking joints.
Välinge's premium rigid core line also features Liteback, which has lowered the weight of the floor with 20%; that means less material used and less CO2 in shipping. The Liteback technology also ads noise-cancelling properties for improved well-being in the home.
Plus, the lighter weight means the panels are easier and safer to transport and less weight to carry into the house. The product is also easy to install thanks to Välinge's innovative 5G locking technology.
Resilient
XPC core technology
Unilin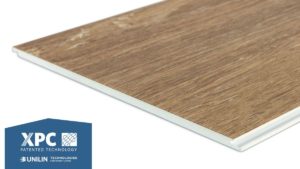 XPC core technology, or "eXtreme dimensional stable polymer core," is a new flooring core material that takes SPC to the next level. The new core material is the result of an R&D collaboration between Unilin and its longtime licensed partner SS Floors. XPC is a PVC-free material that is completely dimensionally stable, providing an alternative for the mainstream SPC products. The new core material for flooring has all the advantages of standard rigid products: waterproof; easy click installation; and dimensional stability. This means the core will not expand when heated nor shrink when cooled—a common problem seen in may SPC floors. XPC products are designed to be installed in direct sunlight and will not suffer from so-called "hot-spots." This makes the product suitable for both residential and commercial applications.
Laminate
Lamdura
Inhaus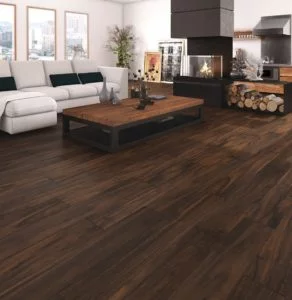 Inhaus is looking to shake up the laminate flooring market with Lamdura, an ultra-premium product made in Germany. Lamdura boasts a high-density, water-resistant Aqua Protect core topped with a commercially rated AC5 wear layer for added durability. If that wasn't enough, Lamdura also features Inhaus' patented Megaloc 2.0 water-resistant, angle-fold locking system.
The line is offered in two initial collections: Inspirations and Landmark. Landmark, the highest performing collection in Inhaus' Lamdura laminate family, features striking textures, a highly durable AC5 wear layer, Aqua Protect moisture protection and pre-attached underlayment. Inspirations, a contemporary twist on a time-tested design, is a modern take on traditional wood flooring. Designs are available with authentic hand-scraped textures and a variety of unique colorations.
It features an AC4 wear layer, Aqua Protect moisture protection and pre-attached underlayment. "With Lamdura, we gave our designers and engineers a blank slate and said, 'Let's develop the best laminate we possibly can, with all the features and benefits possible,'" said Derek Welbourn, CEO of Inhaus.
Laminate
RevWood with Signature technology
Mohawk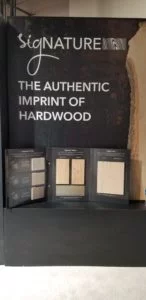 With the release of Signature Technology, Mohawk has reset the standard for the texture and realism of wood décors. By incorporating 64 layers of design data into each plank, Signature Technology achieves a wood floor that is indistinguishable from natural hardwood.
How it works: Signature Technology captures natural designs by scanning, cataloging and preserving the extraordinary detail and variety common to each wood species. The microdata is then transferred to a flooring plank. The variety and detail of these natural features are often lost in the low fidelity digital conversions that currently make up the flooring industry standard.
Initially launched in early 2022 on RevWood Premier, Mohawk's groundbreaking Signature Technology reveals realistic beauty with artistic precision and gives retailers the differentiation they need to win in a crowded wood market.
Hardwood
Dogwood
AHF Products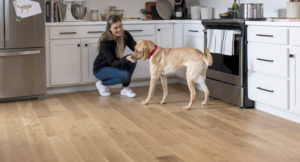 AHF Products' Dogwood Densified Engineered Flooring uses a patentpending process to significantly increase the density of the face veneer by using heat and pressure. The product has a dent- and scratch- resistant surface. This process opens up the possibility for the use of nontraditional wood species, such as sycamore or walnut.
AHF cites the product's demonstrated performance in four key tests:
Janka scale (hardness)
2-inch steel ball drop indentation test (hardness)
Taber abrasion (coating performance)
Martindale micro-scratch resistance (coating performance)
Dogwood Densified Engineered Flooring aims to give traditional hardwood enthusiasts a reason to embrace the category in the midst of all the competing wood "look-alike" products that are on the market today. "Dogwood is an opportunity to bring consumers squarely back into the hardwood category while giving our channel partners an opportunity to grow their sales and margins," explained Brian Carson, AHF CEO. "Retailers will now have a terrific competitive edge with the real hardwood floor consumers want and with the performance attributes they need."
Hardwood
Naked Series
Mercier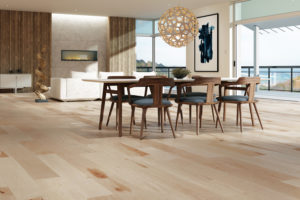 When the Mercier Wood Flooring marketing team brainstormed a name for its latest collection featuring state-of-the-art finishing technology, the goal was to not only define the line's underlying capabilities but also turn heads and make retailers take a second look. So, after kicking around potential monikers like "Raw" and others, the company decided the "Naked Series" most accurately and effectively conveyed the gist of the new offering.
"With this new finishing technology, we are able to apply a coating to the wood, seal it and then apply the Generations coating on top of it without changing the look," explained Wade Bondrowski, Mercier's director of sales, U.S. "With most other wood flooring finishes, once you put a urethane finish it really does change the look of the graining. What we have been able to do with the Naked Series is seal that visual with a finish without changing the natural sawn look of the wood."
Ceramic
Statements 2.0
Daltile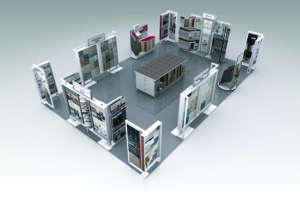 Statements 2.0 is a showroom-within-a-showroom concept that serves as a destination within a store and is designed to increase profitability for dealers while simplifying the shopping experience for consumers. Statements Elite dealers enjoy a host of benefits—merchandising and leads being two of the most significant, giving them an advantage in the marketplace.
Statements 2.0 is Daltile's way of connecting the customer's online and in-store experience to make selecting tile easy. The whole idea behind Statements 2.0 is simplification. Statements 2.0 allows consumers to easily navigate the design process in a 600-square-foot environment. It gives the customer curated assortments within the product look and style they desire, making it easier for the RSA and consumer to quickly narrow down their choices.
Ceramic
Plaster 2.0
MILEstone (Florim USA)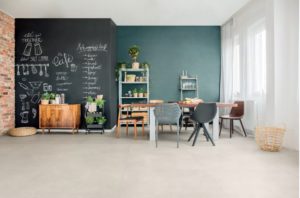 In response to the urgency of the climate crisis, MILEstone, the distribution brand of Florim USA, launched Plaster 2.0, which the company claims presents a necessary revolution within the industry. Plaster 2.0 is the first entirely carbon neutral product to be offered in the porcelain tile industry. It is a beautiful concrete design paired with six bold hues that replicate the artistic layering of venetian plaster. This collection is available in various sizes, along with coordinating trim pieces that offers conscious versatility.
To contribute to low carbon emissions, over 95% of the raw materials used in the  production of MILEstone tiles are sourced within a 500-mile radius of the Clarksville, Tenn., factory.
Technology
CraftedEdge Bevel
Mannington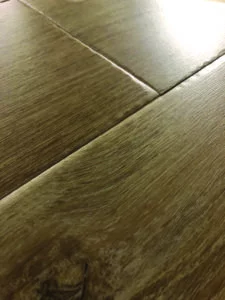 The next-generation bevel technology makes LVT look more like real hardwood. CraftedEdge technology creates a chiseled, handcrafted bevel that conveys a more luxurious visual. Exclusive to Mannington, it will be available on select Adura Max and Adura Rigid resilient floors to make them better resemble real hardwood.
CraftedEdge represents the next evolution in bevel-edge technology for Mannington. "When LVT came out in its flexible form, all LVT had square edges," said David Sheehan, vice president, residential hard surface. "What happened, invariably, either through production variation or through subfloor irregularity, one side would be a little higher than the other. What the manufacturers did to minimize this ledging was to put a micro-bevel and 'kiss' those edges. When those same manufacturers shifted to rigid core production, they just brought that micro-bevel technology along.
"The aesthetic is most important to the consumer, and we think CraftedEdge delivers a more realistic visual. With this strategy everyone wins. The RSA has a product that is easy to sell, and the consumer is getting a product that is in line with her demands."
Technology
WetProtect
Mohawk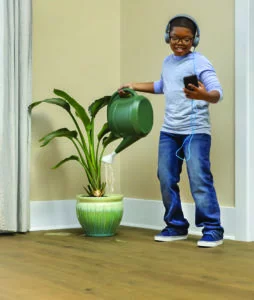 Mohawk raised the ante on waterproof protection earlier this year with the launch of its breakthrough WetProtect technology on its RevWood offerings.
WetProtect, which is essentially a waterproof flooring system, begins with the milling of water-tight joints on the planks that prevent water from leaking through gaps in the flooring. The flooring is then topped with a proprietary finish that traps moisture on the surface where it can evaporate or be wiped away easily. For added protection, waterproof quarter-round moldings can be placed around the perimeter of the installation to provide additional sealing. In a nutshell, WetProtect technology enables the product to be safely installed in areas of the home prone to spills or other accidents. "WetProtect offers the right kind of waterproof with water-tight joints, Mohawk's proprietary waterproof finish and the industry's only lifetime surface and subfloor warranty," said David Moore, senior product director, wood and laminate.
Since its launch, WetProtect has been expanded to other popular Mohawk offerings, including UltraWood, Pergo Extreme and Pergo. "Based on retailer and consumer feedback, we've enhanced all of our other hard surface offerings to include this innovative waterproof technology," Moore added.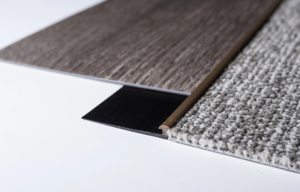 Shaw created Totalworx with the sole intent of making the installation process easier for both customers and consumers. Totalworx has everything covered from start to finish when it comes to getting new floors with different flooring accessories, including cushion and underlayment. Totalworx offers ease of product selection. The brand features products used for each phase of the installation and breaks them down by category, which makes the entire process easier for installers. This also ensures that no product gets left off if they follow the category outlines. The best part is that everything will arrive on a Shaw truck with the entire job order or purchase.
Not only will homeowners reap the benefits of innovative accessories with totalworx, but they will also be contributing to St. Jude Children's Research Hospital when purchasing cleaners or a style from the Shaw Cushion for St. Jude collection. Shaw proudly supports St. Jude with its cushion collection, which includes styles Courage, Hope and Charity. A portion of the sales from both cleaners and St. Jude cushion goes directly to the research hospital. This has allowed TotalWorx to give more than $7 million to their cause, providing consumers something to feel good about when purchasing these products.
Software
Samplesapp
Retail Samples Solutions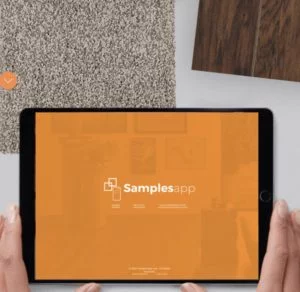 The newly launched Samplesapp, released by Retail Samples Solutions, streamlines the way retailers track flooring samples, increasing efficiency and ultimately saving retailers and manufacturers money. The app creates a seamless way for retailers to track their samples by allowing employees to see what has been checked out by customers, how long a customer has had a product, which products are most popular and more.
Retailers can easily track if samples are being returned and improves communication between the retailer and manufacturer. This helps retailers keep samples of their top-selling samples available in their stores. The app also makes it easier to begin a two-way  communication with the customer. Marketing information, sent via text and email, includes personalized information from the sales associate, specific information about the product the customer has in their home, links to information about financing and the Roomvo room visualizer and more. Available at samplesapp.com, this new technology is free for all flooring retailers. Samplesapp is changing the way retailers handle samples, streamlines communications with customers and manufacturers and provides them more specific data about products.