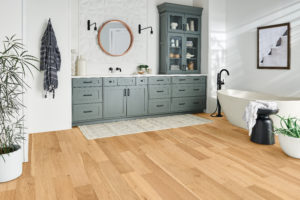 Wood: Innovations in hybrids, cores raise the stakes
Before waterproof flooring hit the market, consumers often had to make a difficult decision: buy a resilient "wood-look" floor that could withstand the rigors of everyday wear and tear, including the hazards posed by everyday spills and pet accidents, or move away with a real hardwood floor and pray that nothing gets on the floor and causes irreparable damage. However, with the increasing popularity of real wood floors that have naturally water-repellent, non-wood cores – along with innovations in engineered hardwood flooring products with improvements and installation systems designed to prevent moisture ingress – consumers no longer have that choice. They can literally have the best of both worlds.
The following is an overview of hybrid hardwood flooring products and innovative hardwood flooring from top to bottom with advanced local treatments, innovative cores and additional installation systems designed to prevent water from entering the top and edges of the planks.
AHF products
AHF's growing range of waterproof hardwood offerings includes products such as Hydropel (under the Bruce brand) and HydroBlok from the Hartco series, both of which feature the company's patent-pending Densified Wood technology. Hydropel and HydroBlock are 100% waterproof engineered hardwood floors infused with patented technology to provide up to 36 hours of water resistance. This is possible thanks to an ultra-high density fiberboard technology combined with a special coating and locking system that helps protect against daily spills, wet mopping or even pet accidents by absorbing the wood or leaking into the subfloor between boards.
Cali
Cali's GeoWood aims to give consumers the best of both worlds: the durability and visual appeal of real hardwood combined with the waterproof properties of SPC. GeoWood offers three wear layer options – oak, maple or bamboo – bonded to a 100% waterproof limestone composite core. According to Cali, this combination makes the product exceptionally strong and dimensionally stable.
"An SPC hardwood hybrid like GeoWood is the closest thing to a truly waterproof wood floor," said Doug Jackson, president. "It's the happy, innovative middle ground between LVT and real wood, serving a category of customers who still want a natural product."
MSI
MSI has expanded its signature Everlife brand of waterproof LVT products with Woodhills Waterproof Wood. The innovative line consists of authentic, hand-selected, high-quality wooden floors that combine traditional craftsmanship with MSI's own technique. Woodhills has a genuine, handcrafted wood top layer bonded to a rigid stone core. The collection is available in 11 colors and comes in 15cm wide x 48cm long planks that showcase the rich and natural aesthetic of hand-selected wood floors. Additional features include MSI's exclusive DryLuxe technology and a pre-attached pad for increased comfort and noise reduction. The combination of features aims to deliver a luxury hardwood floor with all the benefits of rigid core LVT: durability, visual appeal, and ease of installation and maintenance.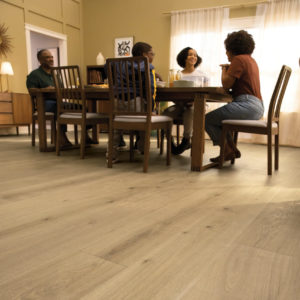 Mohawk
To help its retail partners keep up with the demand for trendy, performance-enhanced hardwood flooring, Mohawk is strengthening its portfolio with additions to its groundbreaking UltraWood line. These include new collections in characterful maple and European white oak, as well as improvements to UltraWood Plus with CleanProtect. UltraWood floors also feature Mohawk's patented WetProtect technology, a lifetime waterproof guarantee for surfaces and subfloors, as well as EasyClean technology. In addition, the line features Mohawk's Everlast hardwood protection system that protects the hardwood veneer from scratches, scuffs and dents.
Shaw Floors Floorté
With Floorte Waterproof Hardwood, homeowners no longer have to sacrifice the beauty of real hardwood to get floors that can withstand everyday life. Planks feature real hardwood with a waterproof core and Shaw's industry-leading finish for extra protection and easy cleaning. Exquisite, pictured here, features a click profile for quick and easy installation, a Soft Silence attached acoustic pad for reduced noise and added comfort, and a ScufResist Platinum finish for long-lasting durability.
Torly's
Torlys' EverestXP hardwood line, billed by the company as "The Pinnacle of Hardwood", was created to provide end users with a variety of design options for different types of wood in wider, longer and cleaner planks. More importantly, products in the EverestXP collection, which are made from 100% natural materials, offer waterproof surface technology for installation in any residential or commercial space. This offers consumers the high performance they have come to expect without sacrificing the beauty of natural wood.
Valinge floors
With several of the latest technologies developed and patented by V.linge Innovation, the parent company of V.linge Flooring, the Hardened Wood Floor collection offers excellent advantages over traditional hardwood floors. Groundbreaking innovations, such as the company's signature Woodura surface technology and 5G Dry folding system, make the stunning real wood floors not only waterproof, but three to five times stronger than the average hardwood floor. Another innovation added to the range is the brushed lacquered hardwood flooring collection in XL and XXL sizes (up to 10 3/4 inches wide x 94 inches long). Made with a combination of the impressive Woodura technology and a new polishing method, the result is durable, water and impact resistant real hardwood floors with a modern design and aesthetic.
Well made
Wellmade pioneered the popular hybrid flooring category with its patented HDPC/SPC waterproof hardwood and bamboo product lines. With the natural beauty and warmth of real hardwood combined with the performance benefits of a rigid core, HDPC/SPC represents the next generation of engineered flooring with superior durability and waterproof performance. Ideal for areas prone to moisture such as kitchens, bathrooms and underground applications, HDPC/SPC hardwoods and strands of bamboo have a dense, non-porous surface that repels dirt and localized spills while also sealing moisture from below. The engineered hardwood product, which is available in standard 5 x 48 inch planks and in wider/longer 7 x 84 inch premium planks, is ideal for areas of the home that are prone to moisture. Add an anti-microbial, mold-resistant IXPE pad and you have a floor that promotes both comfort and cleanliness.