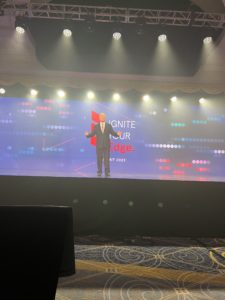 Edge Summit returns in dramatic fashion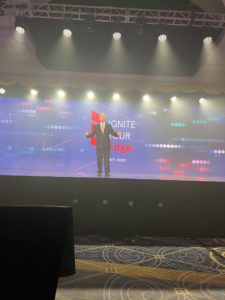 Nashville—After a pandemic-induced hiatus, several postponements, and years of planning, Mohawk finally kicked off the highly anticipated 2023 Mohawk Edge Summit here. The event drew more than 400 attendees, including some of the company's top retail partners.
The theme of Edge Summit 2022, "Ignite Your Edge," reflects Mohawk's commitment to providing its retail partners with the tools and support they need to succeed in today's changing retail environment. "This year's focus is on kickstarting a retail renaissance," said Jeff Lorberbaum, Chairman and CEO of Mohawk, in his opening address to the attendees. "The [historical] The Renaissance was an exciting time, a time when people rediscovered the best ideas of the past and made important discoveries about the future. For you, the Retail Renaissance means having an even greater impact on your customer before she enters the store, and making a stronger impression when she arrives at your store. As the best retailers, you are the perfect partners to optimize new sales technologies, introduce new and innovative products and revitalize the sales process. We are going to give you all the tools you need to help you succeed."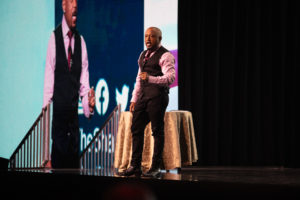 Paul De Cock, president of Mohawk Flooring, North America, echoed Lorberbaum's sentiments in his address to Edge Summit attendees. "Today's consumers have found new ways to shop," he said. "While we know that more consumers are doing more research and shopping online, we are also seeing more and more new retail sales related to physical stores. They want to work with knowledgeable salespeople and they want a targeted in-store experience. In-store and online co-exist in the consumer mind, and we need to capitalize on that to win."
One way Mohawk wants to do that is by investing in its suite of digital lead generation tools and programs – areas where the retailers said they needed more help. "The past few years have changed the way we do business," Kelli Widdifield, senior vice president of marketing, told attendees. "We have listened to you loud and clear. You wanted ways to drive more leads to your store. Mohawk is investing in all of our digital platforms and we've also revamped Mohawk Today. Overall, we focus on making it easier to do business with Mohawk."
Worth the trip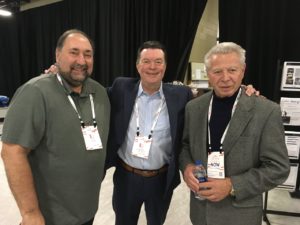 Floor sellers who descended on Nashville for the 2023 Mohawk Edge Summit were not disappointed. A good example is Gavin Danks, owner of Carpet Court New Zealand in Auckland. He flew 19 hours from Auckland to New York, then drove to Nashville, where he visited flooring stores.
"For us in New Zealand, we are an island in the bottom of the Pacific, stuck in our little bubble," Danks explains. "America has tremendous competition and it flows with innovation. That's why I'm here. We try to distinguish ourselves from the peloton. Selling equality is not for us. We appreciate the opportunity that presents itself in the US at the Edge Summit."
For many, it was just good to rub elbows with fellow retailers again. "In-person events will always be the most impactful way for manufacturers to engage with their dealers, whether it be showcasing products or delivering new training," said Deb DeGraaf, co-owner of DeGraaf Interiors, Grand Rapids, Michigan. "It was great to see and network with a lot of shopping friends that I hadn't seen in a long time."
Other Edge dealers like Craig Phillips, president of The Flooring Edge, Akron, Ohio, agreed. "The Edge Summit was a huge success," he said. "I was most impressed by the incredible optimism of my fellow dealers about the future, even the difficulties we could all face in the near term have not really dampened the spirit of the dealer base. The breakout sessions also touched on really important topics."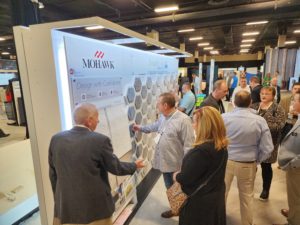 DeWayne Childress, who co-owns Trendsetters Flooring & Countertops in Forth Worth, Texas with his wife Melony, said he was also happy to be back at the Edge Summit. Not only did the event give him the chance to learn from like-minded retailers, but he also learned about new ways to market digitally to a wider audience. He found the session on the revamp of Mohawk Today, a B2B portal where dealers can perform many essential day-to-day tasks, very intriguing.
Retailer attendees also got a first-hand look at the revamped Edge partner program, new digital marketing initiatives, and an education curriculum focused on today's retail needs, among other things.
"The educational seminars are very helpful to us," says Bruce Kautzman, owner of Carpet World Fargo, North Dakota. "Every time you can leave and come home recharged, it's good for you and the company. All in all, I'm glad we took the time to come down from Fargo to be here. Just to spend time with other retailers and learn about their experiences – and that we're not alone – is great."
Cathy Buchanan, co-owner of Independent Carpet One Floor & Home, Westland, Michigan, agreed. "The Mohawk Edge Summit was a great networking opportunity and gave us a preview of the new introductions. There was a lot of energy from Mohawk and the participants, and as for the Edge partner program, the partnership is now easier to understand and has an achievable goal."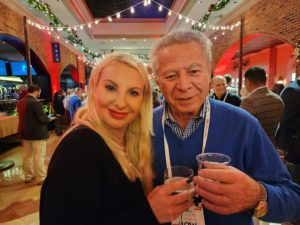 Patrick Smith, co-owner of Gallagher's Flooring, Grand Junction, Colorado, found usable nuggets from the Edge Summit to take back to his business. "In particular, we want to make our showroom more customer-friendly, as our goal is to be the go-to store in our community. That "immersive experience" discussed here is the future of retail, and no one in our community does.
In addition to all the new products, programs and updates, many Edge dealers praise the partnership they have with Mohawk. "I believe Mohawk is positioning itself for growth with their retail partners," said DeGraaf. Ditto for Richard Akel, owner of Akel's Carpet One in Little Rock, Ark. "The Mohawk team is great," he said. "I work with every division of Mohawk and I think they are by far the best supplier we work with. Their level of communication with their retailers is, to me, absolutely superior to that of the sellers. They are great partners."
(For more coverage of the 2023 Edge Summit, check out future editions of FCNews.)