'Best of Surfaces' 2023 call for entries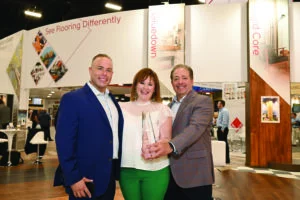 Nnominations are accepted for the Best of Surfaces 2023 contest. The award-based program is powered by News about carpeting and Informa Exhibitions, which owns and operates Surfaces and has become the benchmark for new product excellence and booth design.
"The Best of Surfaces awards are designed to recognize those companies whose product, program, service, business practice or stand design is considered best in class," said Steve Feldman, publisher/editorial director, FCNews. "What sets Best of Surfaces apart from other award programs is that categories are not segmented by product type; rather, they focus on attributes.
As such, the Best of Surfaces 2023 awards will highlight products and programs in the following categories: Innovation, Disruption, Style & Design, and Technology. In addition, two awards will be given for exhibition space: booth design (less than 1,200 square feet and more than 1,200 square feet). The criterion is simple: products must debut with Surfaces. What's more, there is no cost to enter.
For exhibitors, consider this a call for tender. List a product, program, service, business practice, or booth in the category that you think best matches the product's primary attribute. Vendors can only have one listing per category.
Contact Michelle Swayze at michelle.swayze@informa.com for more information about the show or to participate. The retail panel judges will determine the 2023 winners. Those interested in judging Best of Surfaces can contact Steve Feldman, co-publisher and editor via email at steve@fcnews.net.