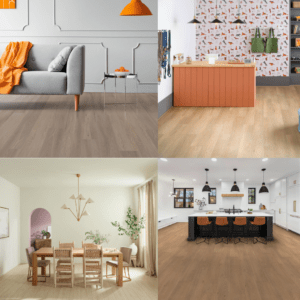 COREtec launches new waterproof styles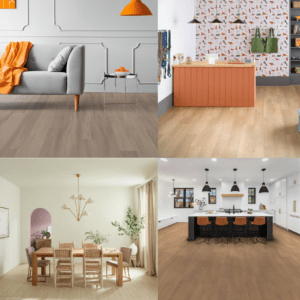 Dalton—COREtec, Shaw's premium resilient brand known for launching the industry's first rigid-core waterproof product, is rolling out 15 new waterproof styles and a subtle rebrand to the COREtec PRO (SPC) line in 2023.
COREtec has refreshed its COREtec PRO (SPC) collection and said it will showcase these changes in the Shaw winter markets in 2023. The refresh includes a new logo and slogan and a simplification of the sub-collection that includes the COREtec Originals (WPC) collection will reflect with tiered "Classics, Enhanced, and Premium" categories for a clear upgrade story.
The rebranding will be supported by the addition of 12 new, trendy color introductions. According to the company, 10 of these styles will be placed in the new Premium category, meaning they will feature embossed-in-register technology and COREtec's integrated bevels. The visuals will consist of a variety of oaks and maples. The 2 remaining color introductions feature realistic modern elm images and will be included in the Enhanced 9 x 72 line.
"We are thrilled to announce these new COREtec PRO color introductions," said Natalie Cady, Director of Premium Brands. "Ten of the styles feature integrated bevel technology, which creates our most authentic wood look and is a PRO first. When you combine this with the elm images we're adding to the 9 x 72 formats in our Enhanced line and our overall PRO refresh, it's easy to see why we're so confident in our SPC line heading into 2023. "
The line will also add three new Originals colors in 2023. These colors will include soft-colored pine and oak and, as part of the Premium category, enhanced painted bevels and EIR technology. These 15 new floor styles have finishes, transitions and steps to match each color.
Color introductions 2023:
COREtec PRO Premium

Norway maple
Mercer oak
Hatfield Maple
Douglas maple
Brookfield Maple
Lawrence Maple
Essex Maple
Fairhaven Oak
Warwick Maple
Stonehaven maple

COREtec PRO improved

London Elm
San Marino Elm

COREtec Originals Premium

Cloud Pine
Vanilla Pine
Genoa oak
TotalWorx: simplified solutions
Shaw's streamlined TotalWorx portfolio works to simplify the installation process and includes:
PrepWorx
Floor preparation products
GroundWorx
Cushion and Backing (includes Courage, Charity and Hope from the Shaw Cushion for St. Jude Collection)
LokWorx
Seam tape, glue and adhesive strips
FinishWorx
Decorative mouldings, cove foot and steps
CareWorx
Disinfectants and cleaner
TotalWorx is committed to providing retailers, homeowners and installers with everything needed to complete any installation from start to finish without a hitch.