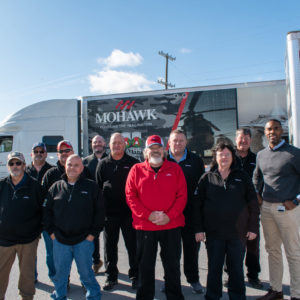 Mohawk partners with Wreaths Across America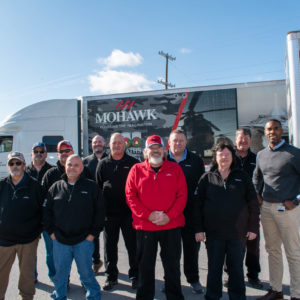 Calhoun Ga. – Mohawk drivers are among hundreds of drivers across the country collectively delivering wreaths in partnership with Wreaths Across America to decorate veterans' graves for the holiday season at approximately 2,500 cemeteries across the United States and abroad. This year, Mohawk said its drivers will be transporting wreaths to cemeteries in Texas and Tennessee for National Wreaths Across America Day, which takes place on Saturday, Dec. 17.
"Because one in five Mohawk truck drivers are veterans, we are proud of their service and the contributions they make to the company every day," said Andy Yearout, Mohawk vice president of transportation and logistics. "This is our fourth year providing wreaths for veterans' graves and it is one small way we can recognize the sacrifices of our country's military members and their families. We are thrilled to be able to increase our support to three truckloads this year."
Three of Mohawk's over-the-road driver teams will be part of the wreath collections and deliveries: Ron and Lea Eppich, Jamie Calvert and Bobby Patterson, as well as Mike Miller and Greg Tanner.
"For me, as a veteran, Wreaths Across America is about honoring and remembering sacrifice," Miller said. "What Mohawk and other carriers have done is amazing. It's an honor for me to be a part of it. It's an early Christmas present and it's a blessing."
The specially wrapped trailers were designed for the occasion by Mohawk's creative teams in honor and memory of those who have served our country.
"Mohawk's involvement in Wreaths Across America has become an annual tradition, one that has become a permanent fixture for our employees and the community," said Justin Gardener, senior director of supply chain strategy at Mohawk. "In addition to increasing our transportation support, this year we established employee-led volunteer groups at the Chattanooga and Dallas-Ft. Worth."
In addition to employing many veterans across the country, Mohawk is a supporter of Building for America's Bravest, which provides flooring for new homes for the nation's most seriously injured veterans.
Wreaths Across America is a national non-profit organization founded in 2007 to continue and expand the annual wreath-laying ceremony at Arlington National Cemetery begun in 1992 by Maine businessman Morrill Worcester. The organization coordinates the annual transport, delivery and installation of more than two million wreaths. on the graves of American veterans around the world.