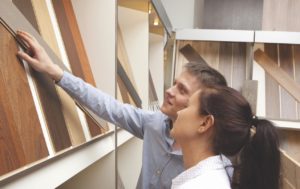 Laminate: Experts share tried-and-true merchandising tips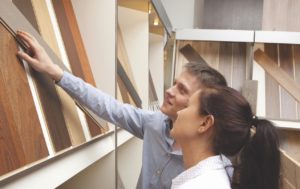 Laminate flooring, a category introduced to the US market nearly 30 years ago, still offers many benefits. These include: realistic, eye-catching visuals; proven durability and performance; and environmentally friendly product features. However, that doesn't mean the category can sell itself – it needs to be properly positioned and promoted on the showroom floor to achieve maximum impact.
The following are some merchandising tips from retailers who have had success with the category over the years.
Keep it simple. "Consumers can easily be overwhelmed by the sheer amount of options, so it's important to narrow down their choices with sleek, yet aesthetically pleasing displays," said Rick Oderio, owner of Conklin Bros, San Jose, California. Successful for a reason, so relying on their visually appealing displays has proven to be a success."
Combine similar products with each other. Retailers suggest trading laminate products in similar categories rather than placing them next to competing segments such as wood, as consumers are usually looking for a specific look rather than particular product types. "People are more likely to tell me what specific look they want, but usually have no idea what product type would best fit their situation," says Fred Wee, owner of Interiors & Textiles, Palo Alto, California. His advice? "Let their lifestyle and preferred price point guide product choice, then use the information you have to make the best suggestions."
Experts say laminate products should be displayed side by side so that customers can visibly see and feel the difference between the different colors, patterns and textures available. "There are so many different options for different design possibilities, so having the products displayed side by side can help narrow down their final choice," explains Wee. "For example, let them choose a color and then browse the different textures and shades of the available colors. It is a visual process of elimination.
Bigger is better. John Dauenhauer, owner of Carpet World in Bismarck, ND, advised dealers to use larger samples to give consumers a chance to visualize how the product will appear in their own homes. "When people shop at our store, we want them to feel like they are experiencing the products as a taste of what it would be like to have it installed in their home," he explains. "It all comes down to the visuals and what looks best. You have to give the consumer tools to make a confident choice."
By making optimal use of the space on the wall, a professional presentation is also given. Retailers say the tactic is a great space saver for smaller venues looking for a visually appealing alternative. "We have laminate samples along a large wall with black borders for a clean and simple look that provides an easy shopping experience for the customer," Conklin Bros.' Oderio explained.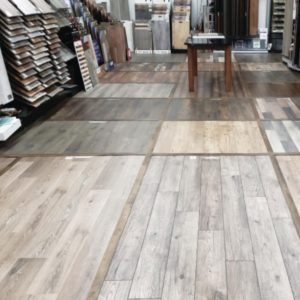 Maximize floor space. In addition to using wall spaces and traditional merchandising units, retailers have also seen positive results by installing products on the showroom floor. Dauenhauer's Carpet World, for example, features a variety of brands, colors, and styles along the showroom floor walkway that leads to the laminate displays. "There is a huge benefit to seeing the product installed and in action along the walkway," explains Dauenhauer. "The task of visualizing what the floor will look and feel like in their own home is done for the customers, while at the same time showing them how the product copes with everyday wear and tear, unlike the products seen in the displays to be."
Strategic positioning. Space permitting, retailers also recommend placing laminate displays as close to the entrance as possible so that they are in a high-traffic area. Experts say this has the dual function of prominently displaying the category while demonstrating how the floors can withstand dirt, rain or even snow that consumers can follow upon entry.
"Laminate is a durable product with water-resistant options; when exposed to rain and dirt, the displays show customers the high wear and tear it can handle by seeing it in action," explains Wee from Interiors & Textiles. "Customers have to see it to believe it."
Emphasize differentiation. With the plethora of flooring choices available to consumers today, it is helpful to emphasize the distinction between laminate and competing hard surfaces.
"When we talk about the difference between laminate and hardwood floors, it's typically someone looking for hardwood and not realizing how expensive some of these hardwood products can be," said Chris Green, owner of Great Southeast Flooring America in Melbourne, Florida. "Meanwhile, their budget says they should fall into the laminate category. There we can tell them that they can be made of laminate and still get the same desired effect."