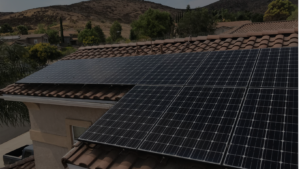 Why Use a Roofing Company to Install Your Solar?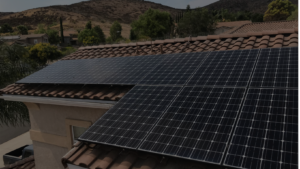 As experienced roofers, we know the ins and outs of roof and solar installations. Whether you are installing solar energy on the roof of your home or modernizing a commercial building with green energy solutions, Christian Roofing offers advanced solutions for buildings of all sizes. Our expert team will determine if your roof is ready for solar panel installation and make recommendations for any structural improvements needed to ensure it is safe and secure. Our detailed estimation process includes a comprehensive survey of your roof to check for leaks, holes and structural stability. Get started by booking a free estimate today.
The benefits of working with a roofer
At Christian Roofing we have over 25 years of experience installing, repairing and modifying solar roofs. We work on residential homes, business premises, apartment buildings, VvEs, restaurants, public buildings and more. While most structures are a good candidate for solar energy, it is critical to have your home inspected by an experienced roofer prior to installation. This ensures that:
Your roof and solar installation are securely attached
Your roof will not be damaged by the solar energy system
Any repairs or replacements will be completed before the solar is installed
The placement of your solar panels will be optimized to ensure maximum efficiency
All work is performed in accordance with the requirements of the Contractors State License Board
Roof and solar elements will be safe, easy to maintain and aesthetically pleasing
Our team works with all types of roofing materials, including slate, ceramic, tile, single-ply and shingles. Choosing an experienced roofing and solar company will secure your investment in the long run.
Make roof repairs prior to your solar installation
When you work with a roofing company, you have access to appropriate roof repairs prior to the installation of your solar panels. This not only ensures that your solar panels are safe, but also protects your property from potential damage from a poor solar installation. In the event that structural reinforcements or repairs are required prior to the solar installation process, we will recommend the most cost-effective solutions in accordance with your budget. Our in-depth process ensures that any repairs or adjustments are made in a timely manner and in full. We comply with all local and national building codes to verify that all roofing work complies with regional regulations.
Find the most effective roof placement for your solar installation
Solar installation designs can vary depending on your property style and aesthetic needs. Our installation process starts with an analysis of the total sun exposure on your property. We'll look at potential shade sources nearby, as well as seasonal weather patterns in your area. Our team assesses the use of major appliances such as air conditioners, generators and cooling systems in your home before confirming the total energy needs of the solar system. After collecting all this data, our roof and solar contractors will prepare an installation blueprint for your custom installation. Our solar roof installations are designed to:
Facilitate optimal solar energy ownership for your needs and region
Work around shadow sources or barriers to sun exposure
Identify all solar installation options, including other rooftop solutions
Assess roof modifications required prior to installation, including repositioning skylights, chimneys and gutters
Design large-scale solar energy solutions for commercial buildings, parking lots and other unique properties
There is no one-size-fits-all when it comes to installing the best solar energy solution for your home. The size of your structure, your power generation needs, the angle of your roof and your investment budget all affect the final design. By choosing an experienced roofing company to design and install your solar energy system, you will get the most effective solution for your needs.
Make sure your roof is safe and stable for years to come
One of the most important components of a rooftop solar system is structural stability. As a fully licensed roofing contractor (CSLB Lic. # 1002598), we can accurately determine the strength of your roof before and after installing solar energy. During a detailed roof inspection, we document the condition of your roofing, identify leaks, structural issues and confirm any required roof repairs. We also check for signs of rodent damage, insects, fungi or pests. Our regular roof inspections include checking the sealing, fixings and safety of other roof components such as seams, gutters and chimneys. You will receive a detailed overview of all required or optional repairs, along with an understanding of how they will impact your timeline and budget.
Get access to the best solar energy technology
As a major solar contractor, an experienced roofing company maintains partnerships with some of the top solar manufacturers in the industry. At Christian Roofing, we offer advanced solar energy options, including the latest generation of high-efficiency photovoltaic panels. Enjoy access to sustainable solar panels (up to a 30-year warranty) and deep-cycle batteries. Because we work with both large and small-scale properties, our experienced team also offers new inverter technology and wiring solutions. By choosing a vetted solar roof company, you will benefit from aesthetically pleasing, streamlined roof mounting techniques.
Understand the cost of the solar installation process
Our in-house team of coordinators and project managers make it easy to predict, plan and document the cost of your rooftop solar system. In addition, a roofing company can provide estimates on cost savings and return on investment once your solar system is up and running. After your free estimate, our team will evaluate the price per kilowatt required for your current energy needs. We then look at how much energy your solar panel system supplies in the summer, autumn, winter and spring. We will compare this to the full cost of installation and energy cost savings over time. We can also suggest tax credits, government grants for solar energy, and local rebate programs that can reduce the cost of your solar installation.
About Christian roofing
Christian Roofing is a Southern California roofing and solar contractor. For more than two decades, we have been helping customers install a wide variety of solar energy solutions for homes and commercial properties. Our commitment to quality, reliability and customer service make us one of the top solar and roofing companies in the industry. Contact us today to learn more about our solar panel and solar financing options.