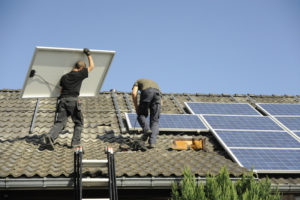 Why Choose Roofing Company to Install Your Solar?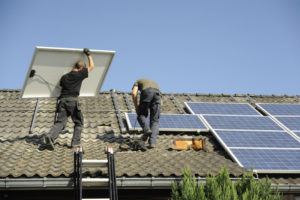 By choosing a certified roofer for your solar panel installations, you prevent possible damage to the roof construction. An experienced roofer can also design and install a solar energy system to match the aesthetics of your home. At Christian Roofing we have over 25 years of experience installing, repairing and modifying solar roofs. Our detailed planning process includes an overview of your current and future energy use, tailored your solar power generation needs, an assessment of solar panel placement options on your property, and a detailed estimate for each cost. By working with an experienced solar roof contractor you will benefit from:
Advanced installation techniques to ensure security and stability for decades
Prevent damage to roof, chimney, gutters or skylights
Appropriate roof repairs and updates completed prior to installation
Optimized placement of solar panels on the structure of your property
Access to the latest solar technology
Information on local discounts and tax credits to support your installation
State approved procedures and policies for safe work practices
A solar panel system that is easy to access, clean and maintain
Prevent damage to your roof
Improperly installed solar panels can be dangerous to the safety of your roof and surrounding structures. As a fully licensed roofing contractor (CSLB Lic. # 1002598), Christian Roofing ensures that your roof is adequately prepared before solar panels can be installed. During our on-site roof inspection, we document any necessary repairs or structural reinforcements that need to be made before installing the solar. We will note the condition of your roofing, identify leaks, find structural problems, check for signs of damage from rodents, insects, mold or pests before confirming that your property is a good candidate for solar energy. Our comprehensive roof inspections include a check of the sealing, fixings and safety of other roof components such as seams, gutters and chimneys. You will receive a detailed overview of all required or optional repairs, along with an understanding of how they will impact your timeline and budget.
Customize your solar solution to your needs
No two solar panel solutions are exactly the same. Each property and its energy needs present different challenges during the planning and installation phase. Before designing your rooftop solar panel installation, we will identify your power generation needs (current and future) to determine the right solar technology for your home. Whether you install solar panels on a single-family home or supply an entire warehouse with green energy, our team advises you on the right technology for your energy consumption and budget.
Build a more efficient solar energy system
An experienced roofing company can assess your home's solar energy generating capacity using a range of detailed tools. Our analysis starts with a calculation to determine the total sun exposure on your property. We'll look at potential shade sources nearby, as well as seasonal weather patterns in your area. We may advise removing trees or other structures prior to installation. To calculate the amount of solar panels needed to support efficiency, we document your key appliances such as air conditioners, generators and refrigeration systems. After collecting all this data, our roof and solar contractors will prepare an installation blueprint for your custom installation. Each solar roof installation is designed to:
Maximize energy generation efficiency throughout the day
Consider your seasonal and annual energy needs
Work with the orientation and design of your home
Combine with the aesthetics of your home
Work with your current roof structure or identify areas where adjustments are needed
If you need help deciding where to place your solar installation, book a free consultation with our team here. We will review all placement options according to your aesthetics and power generation needs.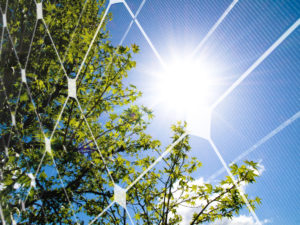 Access to the latest solar energy technology
Established roofers have access to the latest solar technology in the industry. At Christian Roofing we select reliable solar panel products with a long warranty and high quality ratings. Our commitment to safety and quality means we only work with the best solar panel manufacturers in the country. In fact, many of our solar energy installations last 20-30 years with minimal maintenance. Because we work with both large and small customers, we have access to state-of-the-art solar panel technology, batteries and wiring solutions. By choosing a vetted solar roof company, you benefit from aesthetically pleasing, streamlined roof mounting techniques.
Enjoy easy access to cleaning and maintenance
Your solar panels may need to be cleaned and maintained from time to time. A licensed roofer is equipped to provide these services in addition to routine roof inspections and repairs. Whether clearing debris after a storm or assessing a possible rodent infestation, a roofing company can easily assemble the roof and diagnose the situation. By choosing a roofing company to install your solar, you enjoy easy access to safe and reliable service all year round.
Get an accurate cost estimate
An established roofing company has the knowledge and experience necessary to provide an accurate estimate of the full cost of your solar installation. In addition, they can provide a thorough assessment of how much your installation will cost compared to your annual return on investment. At Christian Roofing, we prepare a detailed ROI analysis based on your current price per kilowatt of energy, the total size of the solar panel system you need and any additional savings through local tax and rebate plans. Accurate information about the true cost of your solar installation will make it easier to determine the best investment plan for your budget and timeline.
About Christian roofing
Christian Roofing is a roofing and solar contractor with over 25 years of experience in the solar energy industry. We serve residential and commercial customers throughout Southern California. Our commitment to quality, reliability and customer service make us one of the top solar and roofing companies in the industry. Contact us today to learn more about our solar panel and solar financing options.