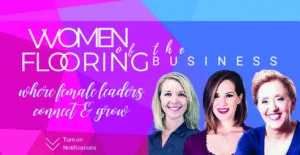 WOFB expands education, training initiative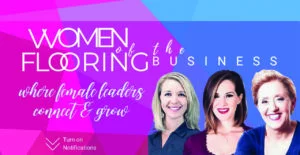 in 2019 withWhen Michelle Winters, Lisbeth Calandrino and Rachel Berlin founded the Women of the Flooring Business (WOFB) group, the idea was to create a platform for women in flooring to share best practices. After several years of the initiative, the group has achieved that primary objective and much more.
Recently, the group has expanded its membership and course offerings. For example, the Weekly Executive Program now provides a forum to discuss relevant issues with its executives, Winters, Berlin and Calandrino. Topics range from how to rent to sell and more. In addition, the group has Workshop Wednesday, where various speakers from inside and outside the industry are brought in to discuss important topics.
"Our members are enthusiastic and committed to our mission of helping women succeed and grow through education," Calandrino said. "The idea is to keep people informed about short and interesting topics. Our programs usually last 30 to 45 minutes and are then archived."
Winters, Education Director of WOFB, added: "Our members tell us that training is extremely important, so we make the training meaningful and short. In addition, we videotape all interviews for our members, put them on our YouTube channel and distribute them through our social media platforms and in other floor groups."
New topics that have recently been added to the teaching schedule are installation, inspections and product knowledge. "The importance of installation cannot be overlooked," Calandrino noted. "And floor inspections and product knowledge go hand and hand with installation."
Calandrino recently held a forum with IICRC approved instructor and floor inspector, Mark Violand, to discuss the field of inspection. "Members usually don't have an opportunity to talk to floor inspectors unless they have a claim, and then they may only be shown a written report," Violand said. "These lessons will help you avoid costly claims and improve customer satisfaction."
In terms of product knowledge, Calandrino hosted a forum with Mark Farnsworth, author of the flooring knowledge book, "Your Complete Flooring Guide." "As an industry, we rely heavily on manufacturers' representatives to provide product knowledge, but we can't expect them to know everything," said Farnsworth. "On the other hand, the flooring professional needs to know everything if he is going to answer consumer questions."
As part of its evolution, the group has also come to focus on training topics beyond the typical floor-related issues of major importance to female membership. "We experiment with different subjects," explains Calandrino. "We are dealing with bigger issues like sexual harassment and childcare. We learned from COVID-19 that the childcare business model is not working and 1.2 million women were unemployed due to childcare issues."
Currently, the group offers two one-hour classes through the Women of the Flooring Business platform. The first is a three-hour $99.00 Zoom lesson covering flooring products, understanding moisture levels, floor preparation and maintenance. The second lesson is a 13-hour Zoom lesson for installers on installation issues and how to avoid claims.
Register here.
---
Lisbeth Calandrino is one of the founders of WOFB, and FCNews columnist and author of "Red Hot Customer Experience—Challenges Your Business will Face in the Next Normal." She has been promoting retail strategies for 20 years.