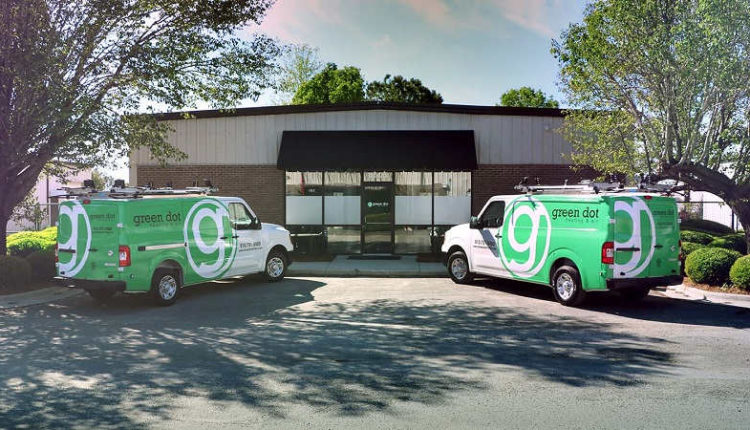 Wilmington-based Green Dot growing HVAC business throughout the Carolinas
Green Dot Heating & Air, headquartered in Wilmington, is undergoing rapid expansion with new locations outside the area.
The HVAC services company recently completed a seventh acquisition to expand from its Wilmington base, which has two locations: its headquarters at 3303 Merchant Court and a second space for its installation and sales departments at 204 Antilles Court in Dutch Square.
The company was started in early 2020 by partners including Chris Jones, CEO; Greg Nelson, Chairman; and Wesley Tyler, COO. The group developed a rollout strategy at the time to begin acquiring heating, ventilation and air conditioning (HVAC) businesses in the Carolinas to be merged into one brand, Jones said.
"It's an opportunity to buy very good companies that didn't really have an exit plan until we arrived. And we're buying the smaller companies," Jones said.
Jones said another goal is to develop a business model that provides opportunities and a stable career path in the industry. The company has 75 full-time employees in North Carolina and South Carolina, 32 of whom are in the Wilmington area.
"We wanted to create a platform where you can turn your career into a career, you can grow, take on leadership positions and all sorts of different things, while at the same time professionalizing an industry that we think a lot about. I don't think the crafts have necessarily been given credit for all the great things they do for any of our communities," he said. "I think the crafts have been looked down upon."
Salary ranges in the HVAC industry, such as for a skilled maintenance technician, can range from $50,000 to nearly $100,000 per year, he said.
"It's a very skilled trade … there is such an opportunity for people who have a gift with their hands and a gift with understanding of electronics and refrigeration and airflow," Jones said. "If your mind works that way, you can create a great life for yourself and a wonderful career."
The COVID-19 pandemic has led to more business and employment opportunities in the HVAC industry, Jones said.
The company focuses primarily on residential HVAC systems, while also doing some light commercial business, he said.
Green Dot has opened other locations in the Seabrook/Kiawah area, Charleston, Columbia and Mount Pleasant in South Carolina.
"We are actively looking at additional acquisitions," Jones said. "We believe we can achieve $100 million in annualized revenue by the end of 2025."
The company is moving at a rapid pace with its acquisitions and aims to triple its size by the end of 2022.
"We're just trying to create something really special. Something unique in this industry. Something that, for the most part, doesn't really exist in the market, which is a large, single-brand, residential-focused company in North and South Carolina," Jones said. "We want to be the largest in the state."