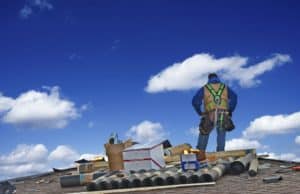 Why Have a Roof Inspection
With decades of experience in the roofing industry, we are often asked, "Why a roof inspection?" Regular roof inspections are one of the simplest and most cost-effective ways to address structural problems before they become a bigger problem. We provide roof inspections for houses, apartments, HOA's and commercial buildings. Are you planning to buy or sell a home? We provide trusted buyers / sellers roof inspections to ensure you have complete transparency on any repairs or updates needed. Contact us today for a free quote.
Seasonal roof inspections – Winterizing your home
Long, dry summers can lead to wear and tear of roofing materials. Preventive maintenance is one of the reasons for having a seasonal roof inspection performed every autumn. During the inspection, our experienced team looks for potential weaknesses that need to be fixed before the winter storms begin. A well-timed inspection can help you save time, money and energy once the winter season is over.
Pre-sale roof inspections
If you are buying or selling a home, a roof inspection may be required before the transaction is completed. Christian Roofing offers a reliable, honest assessment that both parties can trust. During the roof inspection, we will notice recent repairs, long-term issues, rodent damage, and elements that require immediate replacement.
Roof inspections for HOAs and commercial properties
We offer annual or semi-annual roof inspections for commercial buildings and HOA's. This not only helps prevent large-scale repairs, but also ensures that all tenants and residents do not have to deal with emergency damage or leaks. Contact us today to schedule your inspection.
Why book a roof inspection with a roof specialist?
Since damage or potential problems are not always visible to the naked eye, it is essential to book your roof inspection with a licensed specialist. Christian Roofing has decades of experience detecting leaks, rodent damage, degraded materials and structural issues. During your inspection, we perform a series of professional tests that can detect problems below the surface. At Christian Roofing, our extensive roof inspections include multiple checks to ensure the strength and safety of the entire structure. A professional roof inspection includes:
Assessment of the exterior of the property: A comprehensive roof inspection begins with an assessment of the walls, windows, gutters and siding.
Internal inspection: We enter the property and inspect the ceilings, chimneys, skylights and the attic for signs of water leakage, rodents, wind or heat damage.
Inspection on the roof: With proper precautions and safety equipment, our contractor will assemble the roof and inspect clapboards, tiles, flashings, chimneys, fasteners, seams and gutters. We look for signs of tree or rodent damage, worn materials, debris, chemical build-up, cracks and holes.
Inspection report: At the end of the roof inspection you will receive a detailed report with photos, estimates and recommendations. There is no obligation to book immediate repairs or service.
About Christian Roofing
Christian Roofing operates under a Contractors State License (CSLB Lic. # 1002598). Our team of project managers ensure that every job is performed to a high standard when it comes to inspections, installation, safe construction practices and correct material disposal methods.
Ready to start your roofing project? Get in touch with our team today.