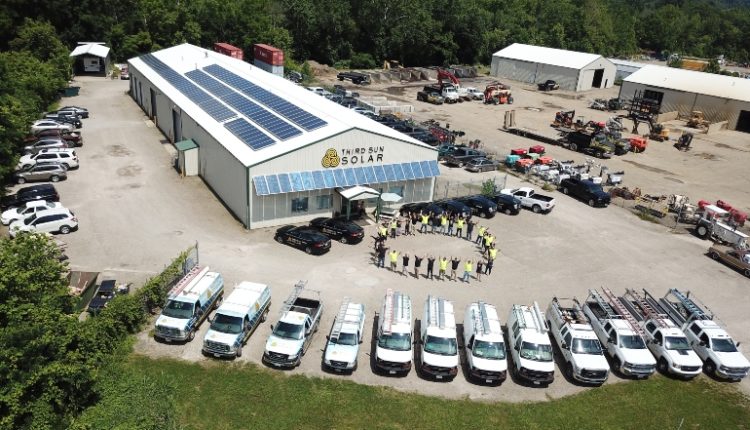 When solar installers have the moral obligation to be greener in a green industry
Solar photovoltaic energy is a green business, but the equipment and facilities required for every step of the installation process are not CO2 neutral by default. Commercial vehicles often use fossil fuels, solar equipment and their packaging are not easily recyclable, and unless there are modules on the roof or renewable energy credits, a company's building is likely to produce more carbon than it prevents.
"It seems common sense to be doing green things while doing green work," said Joel Alder, warehouse manager at the solar installer in New England. ReVision Energy. "If you are here, like me, for a reason and that reason is that you want to see a healthier planet, why not try to include all the things that are trying to do that?"
Installers can take relatively simple steps to implement corporate green practices and reduce CO2 emissions. Replacing facility lighting with LEDs or relying more on natural light, using thermal heat pumps for temperature control, installing low-flow plumbing and of course installing solar on the roof are all options. But operational green practices can start with something as simple as placing trash cans in the office.
Electric vehicles and carbon offsets
Company cars are no small investment. Transporting solar hardware requires vehicles with cargo space, especially for projects in the commercial and utility markets. ReVision Energy has transformed its fleet to become more carbon-friendly by using electric gasoline hybrids, all-electric cars and biodiesel plant trucks.
"When we go out to meet with customers, the first option is to use a battery-electric Chevy Bolt to make that zero-emission journey because it has just been charged by our rooftop solar panels in our store," said Phil Coupe, Co-Founder of ReVision Energy. And if we run out of Bolts, second choice is the Prius. And when we get into the light commercial vehicles, we use things like Sprinter vans for their fuel efficiency and for all things diesel. These are typical rigids [so] we are able to get away with 100% biodiesel in the warmer months … then we have to change the blend as we go into the winter months. "
Although electric semi-trucks are currently being tested, it will be some time before they are widely used commercially. Meanwhile, there is biodiesel, which is made with vegetable oils, animal fats and restaurant fat. The fuel has similar properties to petroleum diesel, but it releases about a fifth of the carbon dioxide when consumed and can be used in many existing diesel engines. According to the US Department of Energy Data center for alternative fuels (AFDC), There are 307 registered biodiesel filling stations in the United States, but they are not present in every state.
A similar riddle arises with electric vehicles. Today's electric vehicles are mainly used for commuting, meaning they are usually charged at home and can drive about 250 miles on a single charge. While infrastructure for gasoline and diesel is being built, charging points for electric vehicles are scarcer than gas stations. But they are expanding rapidly, with about 47,000 in the United States, according to the AFDC, equivalent to about a quarter of the gas stations in the country.
For installers and sales personnel working in smaller areas or areas with charging stations, electric vehicles can be the economical choice under the right conditions, especially if there is solar on the roof to provide them with power. If the purchase of an electric car or compatibility with biofuels is not on the map, carbon offsets are another option.
Certified Installer from B Corporation and Ohio Third Sun Solar does not have a fleet of electric vehicles, but instead buys carbon offsets through a service called TerraPass. Every year Third Sun pays 108 tons of CO2 compensation.
The money spent on offsets is reinvested in carbon reduction programs, such as land gas capture and the construction of larger renewable energy projects. Third Sun's engineers and salesmen travel across Ohio to install solar power, and the offsets the company purchases cover the carbon produced by their work vehicles on those trips. So while greener vehicle purchases may not be possible for the Midwest solar installer company right now, Third Sun is helping to build greener energy projects on a larger scale.
Refurbish, reuse, recycle
Recycling can apply to all levels of business, from using reusable cutlery in the lunchroom to finding recycling options for faulty solar panels.
ReVision Energy's commitment to recycling didn't start overnight. It emerged out of necessity as the company scaled and expanded its installations, bringing in more damaged components such as modules and inverters. ReVision's maintenance services delivered more of that hardware when engineers visited legacy arrays.
The solution to the component recycling problem came in the form of an electronic waste company based in New Hampshire called Aurum Recovery Group. Aurum Recovery processes a variety of electronics and is able to recycle approximately 85% of the solar panel hardware. The aluminum frames, part of the wire on the back of the module and the glass are all recyclable and the solar cells are shredded and combined with Aurum's PCB mixes.
Solar hardware packaging has its own recycling challenges. Pallets with panels are wrapped in plastic film and tabs used to separate the modules during shipping are made from No. 2 plastic. The first is not a generally recyclable material.
ReVision initially took the film plastic to a regional grocer that processed the material, and later joined a recycling cooperative founded by Allagash Brewing Company, a local sustainability-focused brewery whose company has a large intake of film plastic.
The revenue ReVision sees from scrap more than covers the shipping costs for e-waste and the time it takes to collect and recycle the film and No. 2 plastics.
"[Recycling services are] certainly not easy to find, "said ReVision's Alder. 'It took some time to track everything down. That's why I like to talk about it. I hope people hear this and realize that there are a number of sources for this kind of thing, even though it's not a quick Google search and, 'bang', you know where to get rid of your No. 2 plastic. "
Third Sun also recycles everything it can. It may be more convenient to dispose of component packaging on job sites, but Third Sun installers are reclaiming everything for recycling and the company is donating pallets to people in the community. Some of those pallets were reused and used in a project to build benches, tables and sculptures for a local park.
"It's quite difficult to store the pallets and cardboard and put everything back on the trailer," says Michelle Greenfield, co-owner of Third Sun Solar. "You have a trailer full of panels going to North Columbus and then you have to drag all that stuff back. But we do it, it's just the way we do things. "
Computers, cell phones and tablets in everyday use have narrower and narrower user windows before they become obsolete, but they are not necessarily useless. California installer Optimal solar energy started refurbishing those electronics when it came time to replace them. The computers and cell phones are donated to children and families in need through a program at a local church in Glendale, where the company is based.
"We just do what we can in the markets we serve with the employees that we have to be better, be greener, be positive and think about the environment," said Rainier de Ocampo, VP of marketing at Solar Optimum. . "Whatever impact we make, big or small, it's as much as we can and we support it."
When it comes to recycling programs or finding other uses for materials or electronics, these installers have found success in local or regional sources. It took a little extra effort, but it keeps many materials from ending up in landfills and ultimately reducing their carbon footprint.
"It's part of a bigger mission. I now drive the road in Ohio, and incredible amounts of trash and plastic are all over the side of the road. If we say we save the planet and want to mitigate climate change, but we're not doing anything to reduce the use of plastic, recycle our materials, or offset carbon, we're not doing everything we can, " Greenfield said. "There are a lot of things you can do besides sales, which is great, but there are so many facets that encompass our businesses."