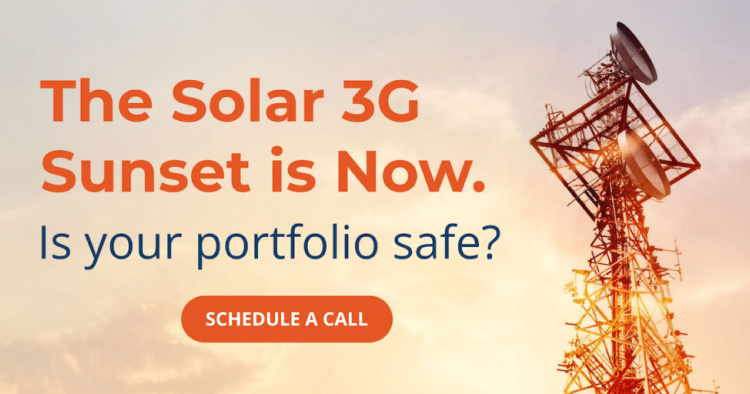 What will you do when 3G goes dark?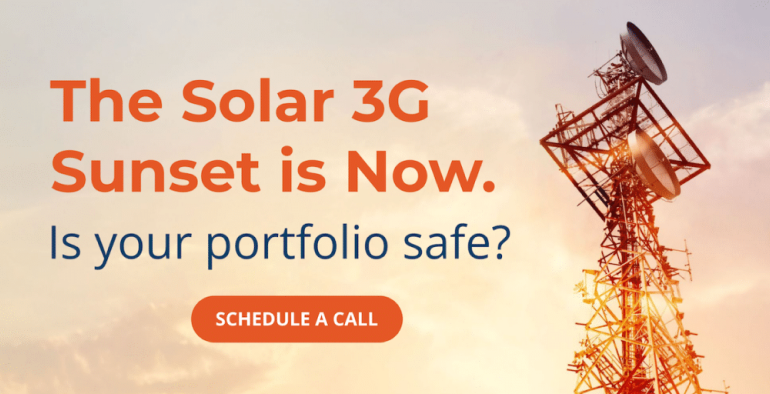 By 365 Pronto
The solar 3G sunset is here. AT&T recently stopped supporting devices using its 3G network, and other major telecommunications carriers are following suit throughout the year.
If you own, manage, or trade on a portfolio of solar assets and have not addressed this yet, time is running out.
365 Pronto, Inc.a cleantech platform that is revolutionizing the operations and maintenance (O&M) of renewable energy assets, is working with portfolio owners, asset managers, and SREC brokers/aggregators across the country to programmatically replace thousands of these legacy units.
Below are some things you need to know.
Not Your Everyday Sunset
By the end of this year, the 3G sunset will impact more than 20 million devices, ranging from old cell phones to smart-home and medical devices to electric vehicle charging equipment, and the meters and modems that monitor solar energy production.
The impacts of this loss of connectivity could hit solar owners right in the pocketbooks:
SRECs and other solar incentives will be interrupted
This loss of monitoring will result in customers being in breach of contract with incentive entities
Customers with leased systems or in power purchase agreements could also be breach of contract
Customers won't know about production interruptions until they get an unpleasant surprise on their energy bill
Additionally, EV drivers will pull up to chargers that can't process their credit cards, communicate with their apps, or notify the network operator that the charger is down.
Few Scalable Solutions
The scale of the shutdown can't easily be solved piecemeal, either:
It's inefficient to manage dozens of regional installers
Thousands of these solar installers have gone out of business in the last decade
Of those installers still in business, many do not want to do this service work (perceiving it as "not worth it")
Don't Leave Customers in the Dark
With limited coverage in the media around this topic, and carriers inadequately communicating the scope of this challenge, many customers are left in the dark about whether their solar systems are impacted by this sunset or not.
Unless you have a team of experts to help customers understand what the 3G sunset means for their equipment and know what you're doing to help them navigate it, you're missing a huge part of the picture.
If You Haven't Acted Now, You're Already Late
With surging demand for chips, the snowball effect of the COVID-19 pandemic, and major producers forced offline due to water shortages/drought conditions, you're lucky to secure even a single pallet of modems within 3 months.
Don't spend weeks—or even months—scouring suppliers for meters and modems; get a partner who knows where to look and can handle the logistics for you.
You Can't Control the Sunset, But You Can Control How You Navigate It
The 3G sunset is out of your control, and yet thousands of homeowners with solar systems on their roof are relying on you to navigate it.
Simply put: It's critical to act now to get ahead of the next round of 3G shutdowns. 365 Pronto's unique, end-to-end solution includes:
Portfolio equipment analysis and matching like-for-like replacements
End-user communications and outreach to make homeowners aware of the issue
End-user registration and secure payment to get them on the list for replacement
Selection, purchasing, and delivery of replacement equipment to the homeowner
New equipment installation and testing by a 365 Pronto provider, and proof of completion reporting
From OEMs to retailers to asset managers to leasing companies to SREC brokers—if you own, manage, or lease solar and EV assets, contact 365 Pronto today before the clock runs out on your customers' 3G devices.
Sponsored Content by 365 Pronto, Inc. (an Enphase Company)