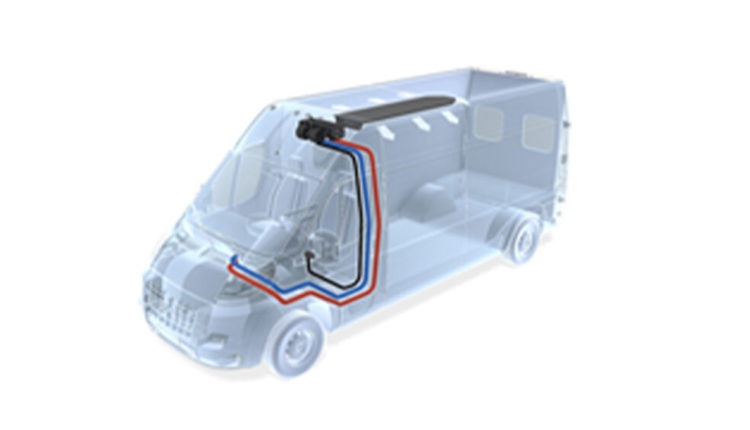 Webasto Unveils Unique Van HVAC Kit-Building System
Webasto North America, a global Tier 1 manufacturer of automotive, commercial vehicles and aftermarket equipment, has announced the introduction of its new A La Carte Aftermarket Van HVAC Kit-Building System. Webasto's new menu-driven approach, an industry first, allows customers to equip Ford Transit, RAM ProMaster or Mercedes Sprinter vans faster with auxiliary HVAC systems, while carrying less inventory, and all that at a lower cost.
To date, those in the market for supplemental coupled heating/cooling or stand-alone HVAC kits for the most popular commercial van makes and models had to purchase a model-specific kit designed for that particular vehicle. However, with the popularity of vans and the variety of models out there, chances are any of the 25 to 30 most popular kits will not be locally stocked or otherwise readily available.
"Webasto has been making aftermarket HVAC kits for vans for years, and we alone have created 22 individual systems, each designed to fit the leading van makes and models," said Mike Cicioni, HVAC Application Manager. "Our systems work seamlessly, but our distributors had to carry multiples of all 22 kits if they wanted to be in stock and ready to meet market variables."
Webasto realized that many of the HVAC components they used to make their kits were common to various makes and models, with others being specially designed and manufactured. They also realized that unbundling the components could make it easier for bodybuilders, mechanics and fleets to all get what they wanted faster and more consistently.
"Our goal was to find a way to relieve our customers so that they can carry a smaller inventory of the component components, rather than 22 or more vehicle-specific kits," said Cicioni. "Essentially, the concept was to provide cheaper unbundled components that could be re-bundled later, based solely on application and demand."
Webasto engineers wanted to re-examine every system and component to minimize variability and optimize application performance. As they honed their designs, their engineering teams conducted fieldwork with numerous installer groups to understand how they would approach an installation. They took what they learned and made their designs and process even more streamlined. The new A La Carte Aftermarket Van HVAC Kit-Building System was born.
The revolutionary approach enables Webasto to cover 90% of the van market with approximately 30 à la carte HVAC components. With Webasto's system, its customers have less inventory, while they are better able to respond to fluctuating demand. The system also puts its customers in a more favorable position to handle a wider variety of work truck applications than Webasto's existing van-specific HVAC kits.
Webasto developed a decision tree method that allows virtually anyone to choose the right system components based on just eight simple questions. The company is also introducing a product brochure that includes the product specification with eight questions. The questions can be answered by simply marking the brochure and noting the corresponding part numbers. Work is also underway on an online configurator that will be compatible with both desktop and mobile devices.
"We've taken on a complex task and made it easy for customers to tick a few boxes and specify an HVAC system optimized precisely for their unique application," said Matt Wheeler, Head of HVAC – Light and medium use. "We've done the hard work to make our customers' jobs easier."
One of the issues that Webasto's A La Carte Aftermarket Van HVAC Kit-Building System addresses is the common problem of over or under specification of aftermarket HVAC systems. As with the purchase of consumer HVAC systems, there is often confusion about the proper sizing of an HVAC system needed to heat or cool a specific van make and model.
"This can be an inventory issue because if someone doesn't have the right system for a specific vehicle, they can recommend something they have in stock," Wheeler said. "Because that system is not optimized for that particular vehicle, it will over or under perform mechanically and electronically from the start, resulting in comfort issues and service and maintenance issues down the road."
When specified and configured using their unique à la carte method, a Webasto aftermarket HVAC kit will integrate seamlessly with a vehicle's factory system. The Webasto system provides users with optimum auxiliary heating and cooling performance because it is the right size and configuration for that specific vehicle and application.
For major customers and specialist road vehicle manufacturers, Webasto continues to provide the direct support and custom application solutions they have always enjoyed. Webasto's team of experts will go to a customer's production facility and after observation produce a customized list of goods if needed.
"We have designed, developed and marketed an exceptional quality system that is easy to specify and install, and all at a competitive price," said Wheeler. "Webasto's A La Carte Aftermarket Van HVAC Kit-Building System will literally change the status quo in the aftermarket support HVAC segment, and that change will be better for everyone involved."
For more information visit http://www.webasto-group.com.