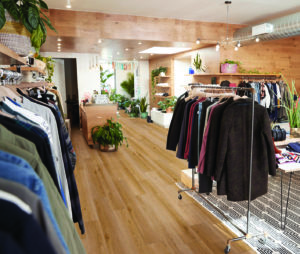 Waterproof flooring grows within commercial market
Waterproofing is a buzzword in the residential flooring market, but commercial building owners, designers and property managers are starting to look to this category of flooring for their latest projects.
While waterproof floors can encompass a wide range of materials, including resilient board, laminate, and even some hardwoods, the hard-core category is also sparking interest in some commercial sectors.
"Core rigid products have seen growth in the commercial sector – perhaps not at the level of the residential sector, but core rigid products have seen commercial growth at an accelerating pace," explains Jeremy Whipple, vice president of business development at Novalis.
Drew Wiley, product manager, commercial, AHF Products, added that the unique characteristics of the rigid core drive growth. "Rigid core floors are an innovative hybrid product that combines some of the best features of multiple flooring categories. There are several types of rigid core solutions that are ideal for spaces ranging from hotel rooms and cafeterias to apartment buildings and retail businesses."
According to Ben Wojcikiewicz, director of Commercial Hard Surface, Mohawk's rigid core market has grown within the commercial sector, as LVT/LVP is generally a part of the overall flooring market. "We are still seeing bonded, flexible LVT being specified in most commercial space projects, but rigid is popular in segments such as seniors, hospitality, and builder/multi-family," he said. "This is primarily driven by a need for acoustic performance not provided by other LVT/LVP product types."
At Shaw Contract, Jeff West, vice president of marketing, explained that the rigid core category has also grown over the past year based on features such as reduced floor preparation, high dent resistance and improved scratch performance. "Stiff core minimizes floor preparation and reduces telegraphy," he said. "This means faster and lower installation costs. No transition strips are needed between hard core and carpet tile. It also has acoustic benefits, reducing sound transmission. In addition, it tackles moisture from above. It's great for multi-family, senior and workplace environments, especially common areas in these segments."
Kelly Williams, design director at Patcraft, noted that in healthcare and education environments, the company often sees projects that have a shorter build period or that are in a space that cannot be closed for a longer period of time. "These segments typically require fast turnaround times for flooring installation to minimize disruption, and with features such as zero acclimation time and subfloor forgiveness, rigid core products can provide faster installation with minimal floor preparation."
Following are some of the latest innovations in waterproof hard core flooring for the commercial market.
AHF
AHF's Nod to Nature collection comes in three different textures: rewilding, dry-back traditional LVT; Individuality, loose thick LVT; and Visionary, SPC rigid core. The collection includes realistic hardwood and stone visuals. Every size delivers high performance with the HartGuard ultra-shield finish, which resists dents and stains and is easy to clean – just simple maintenance with a damp mopping. The collection has a 15-year commercial warranty, is FloorScore certified and contains Cleantivity antimicrobial technology, which inhibits the growth of bacteria, mold and mildew.
Ava by Novalis
Novalis' Ava Fave aims to bring back the best and most popular designs for a new run and with a Made in the USA impact. Fave's high-density core (HDC) offers a waterproof, rigid core performance in large, 5.75 x 47.75 click planks with attached acoustic backing that provides superior noise control performance. Fave is phthalate free and features Ava's AMP Advantage patented coating that resists 30% more scratches than typical coatings with exceptional abrasion resistance and high strength with a low gloss finish.
patcraft
Patcraft's rigid core Longitude collection is said to offer improved stain resistance compared to traditional LVT. It resists common stains such as hair dye, nail polish, and nail polish remover, as well as common medical stains such as iodine, disinfectants, hand sanitizers, and others. The product also offers lasting durability that can withstand the most demanding environments.
Shaw contract
Shaw Contract's Cover+ Envelope collection is designed to convey warmth and simplicity while delivering high performance and durability in harsh commercial environments. With a patented layered construction, COREtec is dimensionally stable, waterproof, scratch resistant and reduces sound transmission. Installation is quick and easy, which can help reduce time and labor costs. Cover+ Envelope, made in the USA without ortho phthalates, is FloorScore certified for low VOC.
Tarkett
ProGen is a rigid core flooring product with next-generation center-to-surface engineering, designed to perform radically better under the rigors of everyday use. It is resistant to water, temperature changes and sunlight, and resists kinks, dents and warping. ProGen features 22 high-definition wood designs, waterproof rigid construction, proven scratch and nick resistance, and a quick-lock click system for easy installation with a blade.
The post Growing Waterproof Floors in the Commercial Market appeared first on Floor Covering News.