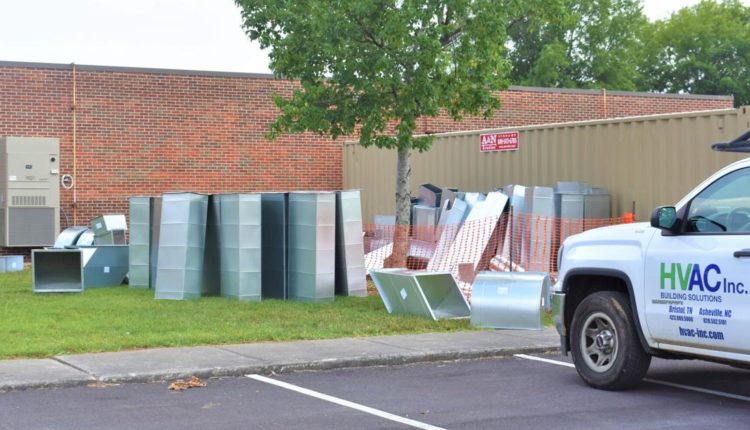 Watch now: HVAC work at Volunteer, Cherokee won't disrupt first day of school | News
CHURCH HILL — The HVAC replacement project at Hawkins County's two main high schools will not be completed by Aug. 9, but school principal Matt Hixson said the first day of school will not be disrupted.
On Monday, it was rumored that the unfinished HVAC project at Cherokee would lead to delays on the first day of school.
Hixson told the Times News that that was probably wishful thinking on the part of a college student.
The Hawkins County Board of Education, along with Hixson and Principal Greg Sturgill, toured Volunteer High School Monday to review progress on the new HVAC installation, as well as refinishing the floor in the gym and painting, and other recent work. .
Hixson told the Times News during that campus tour that the HVAC systems at both schools will be up and running in time for the August 9 classes.
There will be some finishing work on both the Cherokee and Volunteer Campuses that will be completed after school to avoid disrupting class time.
COVID-19-related equipment delivery delays that have affected similar projects across the country also impacted the projects in Hawkins County.
At the end of last week, Volunteer delivered the last wall units to control the temperature in individual classrooms and installed them on Monday.
Hixson said there is still some work to be done in storage areas and central areas where the new piping will converge.
"There are some control valves they are waiting for, but that will all be after school and will not affect the class day," Hixson said.
Cherokee's wall-mounted units were delivered Monday, which was two days earlier than expected.
"The temporary units you see now are the old units that had their wiring rewired, the holes in the masonry were clogged, so the work we were able to do while waiting for the wall hung units to come was done," Hixson said. "Now that the wall mounted units are delivered (Monday) we can continue with exactly what we have been doing here (at Volunteer)."
Hixson added: "By August 9th, fingers crossed, all is well and operational (at Cherokee). At worst, we still have some units to set up in some non-educational areas that we will be working on." have to work after the school day is over for a while, but in all respects we are operational."
Hixson said the completion date of both projects will depend on the delivery of controls delayed due to COVID.
Last year, the Hawkins County Commission rejected a Board of Education proposal to issue a $9.5 million bond to replace the 40-year-old HVAC and duct systems at both Cherokee and Volunteer.
The HVAC project was subsequently funded from multiple sources, including $5 million from ESSER 2.0 (Federal Emergency Relief Fund for Elementary and Secondary Schools).
Another $2.5 million for the HVAC project will come from ESSER 3.0, pending approval later this month.
The remainder of the HVAC project was paid for by using about half of a $5 million EESI (Energy Efficient Schools Initiative) low-interest government loan.
Half of that EESI loan was used to provide Hawkins County Schools with energy-efficient LED lighting, and the other half was used to pay for the balance of the HVAC projects not covered by the ESSER funding.