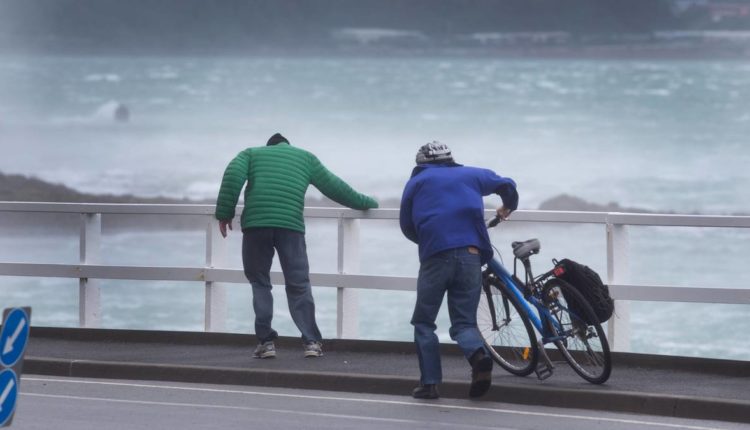 Wastewater flooding in Wellington as winds cancel flights, blow roofs off houses
Wellington residents should brace themselves for continued strong winds, with gusts expected to reach 140 km/h in some areas. Photo/file, Mark Mitchell
A burst sewage pipe drains sewage on SH1 north of the capital, as fierce winds and rain continue to plague the region, flooding streets and canceling flights.
Wellington Water advised to expect delays on SH1 at Paremata due to a burst sewage line between the Aotea and Plimmerton exit, 200 meters north of Aotea Lagoon.
The public was also asked to minimize water use and not to swim in Porirua Port for the next 48 hours.
It comes as the region is ravaged by strong winds and rain, causing flooding and wind damage in the capital.
Wellington Water was called to the burst wastewater pipe around 8 a.m. today, said client planning manager Sam Lister.
"As a result, sewage over SH1 and into the port of Paremata has been flooded. State Highway 1 currently only has one lane northbound and people should expect delays.
"There are nine holding tank trucks on site to reduce the flooding on SH1 and the crew plans to make an urgent repair."
Work was expected to last until late tonight and Lister warned there could be more burst pipes.
"As the heavy rainfall is likely to cause more flooding, we are also asking residents of Whitby, Paremata, Plimmerton, Pukerua Bay and the northern parts of Aotea to minimize water use as much as possible.
Strong winds reaching 130 km/h in places are canceling flights at Wellington Airport and blowing roofs off houses as flooding and debris are reported across the region.
The savage weather plaguing the west coast of the South Island is sweeping the country today – with most parts of the North Island experiencing periods of heavy, intense rain and high winds.
Wellington Airport said the gusts of wind had disrupted the flight all morning.
A spokesman said 46 domestic flights to and from Wellington Airport had been canceled so far on Saturday. That included 24 arrivals and 22 departing domestic services.
Wellington City Council urged motorists to take extra care on the city's roads as torrential rain and strong winds plague the region.
They had received more than 20 calls since 8 a.m. today to reports of flooding on roads and in private properties.
Crews attended a tree in Oban St, Wadestown, and there had been multiple reports of flooding, including shops in Adelaide Rd, Berhampore.
MetService meteorologist Rob Kerr said strong winds are expected to continue for the rest of the day, with a weather warning in effect until 6 p.m.
Severe north to north-westerly storms can cause gusts of up to 140 km/h in exposed places.
The anemometer on Mt Kaukau in Wellington recorded peak gusts of 80mph or more between 8pm last night and 1am this morning.
Kerr said the weather would move quickly across the country today – bringing periods of heavy rain to much of the North Island.
"Bang, it's going to speed up across the street" [the North Island]. It will be quite short to get through it," he said.
The region continued to be under heavy rain with Kelburn recording 31mm in the past six hours and 32mm in Trentham.
"The hold for heavy rain will last until 4pm this afternoon and will be followed by some showers and showers from the northwest for the rest of the day and tomorrow.
"The watch in heavy winds will continue until 3 o'clock tomorrow morning."
There was also a travel warning for people heading north on SH1, with large waves expected in northwestern parts of the region, such as the Kapiti coast and Pukerua Bay.
"With high tides around 3:00 p.m. this afternoon, we could see some splash and debris that SH1 heads north out of town, north of Pukerua Bay," Kerr said.
He said NZTA would also monitor the road.
Earlier this morning, conditions had failed a power or telephone line on Northland Tunnel Rd, caused a tree on Ohiro Rd and contributed to a car accident.
Police have been receiving reports of weather in Wellington since 5:45 a.m., a spokeswoman said.
"Flooding on SH1 at Papakowhai … appears to have contributed to a vehicle starting to spin at 8:20 am. There were no injuries and the vehicle was towed," the spokeswoman said.
There was also flooding on Hutt Rd near Kaiwharawhara and Grays Rd in Plimmerton.
Three vehicles were involved in an accident on Hutt Road at 11:50 am with no injuries.
Slips were also reported in the south lane of SH1 at Newlands, on Hudson St, Island Bay, and on Tai Paku Paku Road, Karaka Bays.
The council had also advised on flooding in Waikowhai Street, Ngaio at 11 a.m.
Fire and Emergency had 28 weather-related calls overnight and responded to 19 in Wellington.
A spokesperson said the reports included roofs being raised, windows blown and fallen trees.
"This morning we continue to respond to a steady stream of requests for help, including surface flooding, trees knocking down power lines and storm damage to property. Our crews are working with power companies where power lines are involved."
Team manager Belinda Beets said a large part of a roof came from a house in Newtown.
Roof tiles and a sign have also come loose elsewhere in that district.
Steel hung from a roof of an apartment building in Taranaki St in the CBD, and doors were blown out in Ngaio.