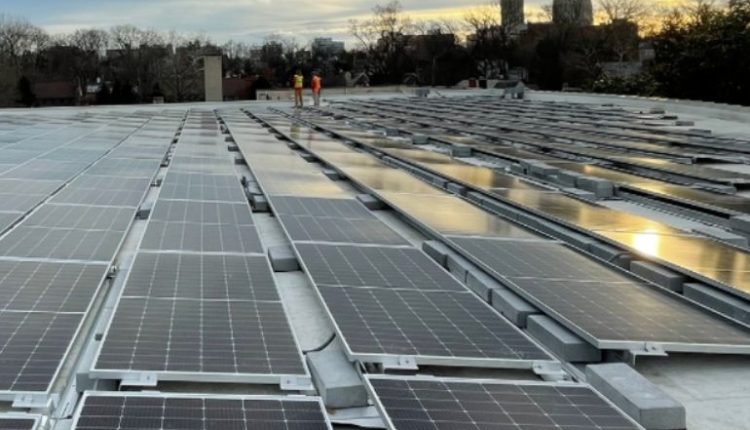 Washington Hebrew Congregation adds 414.9-kW solar array to temple roof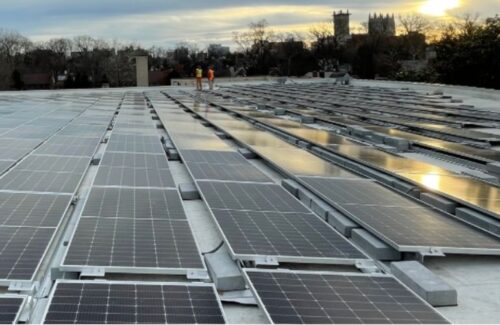 On Dec. 22, Washington Hebrew Congregation (WHC) flipped the switch on the new solar array atop their temple building on Macomb Street. New Columbia Solar developed the 414.9-kW array that's expected to produce 45% of the building's needs and save close to $50,000 per year on the temple's electric bill.
"One of our core values ​​is to stand together in the face of life's challenges," said WHC executive director Steve Jacober. "There is no bigger challenge to life than climate change, so for us to play a part in slowing that change down is something we felt we had to do."
WHC has been strving to implement solar options for many years, and in 2021, it became clear that the technology and the District's solar policies and incentives made it possible to receive the financial benefits.
"This really wouldn't have been possible without the incentives from the DC and federal governments," said WHC director of engineering Mohan Mistry. "With them, this project is a win-win for everyone."
Mistry added that plans are in place for solar at Julia P. Bindeman Suburban Center (JBSC) as well, should the state of Maryland introduce its own incentive package.
News item from New Columbia Solar