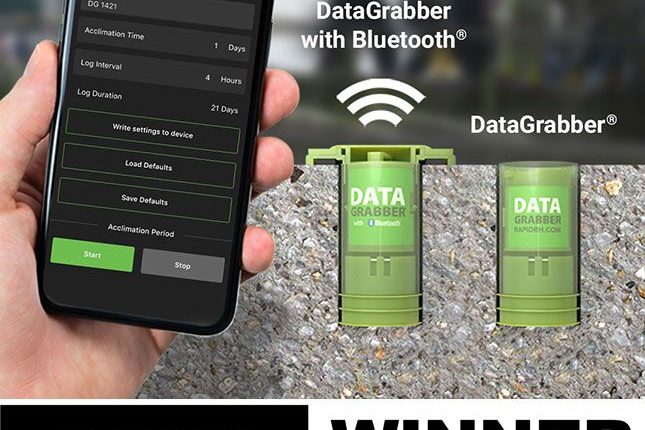 Wagner Meters introduces new logger device
Rogue River, Ore.—Wagner Meters, a provider of wood and concrete moisture measurement instrumentation, is introducing two data logger devices designed to automate the process of collecting and storing in situ concrete relative humidity (RH) readings when installed inside Rapid RH L6 Smart sensors.
According to the company, the two self-contained wireless data logger devices significantly enhance the digital documentation of L6 Smart Sensor readings by automating the collection and storage of concrete RH readings while the user is away. The larger of the two, the DataGrabber with Bluetooth fits inside an L6 Smart Sensor and features a built-in wireless connection to the free DataMaster L6 app. The smaller DataGrabber slips discreetly inside the L6 Smart Sensor and connects with the DataMaster L6 app by using the Total Reader as a Bluetooth conduit.
Both DataGrabbers can be programmed for automated collection of time-stamped concrete RH and temperature readings, according to the company. Inside the DataMaster L6 app, the user can configure the time interval that the DataGrabber will take periodic readings. The app will also keep a running clock of acclimation time, download the time-stamped readings contained within the L6 Smart Sensor and much more.
According to the company, the DataGrabber performs the same automated and data gathering tasks as the DataGrabber with Bluetooth but is programmable exclusively by using the Total Reader as a Bluetooth conduit to the DataMaster L6 app. The small DataGrabber is sized for long term periodic engagement of the L6 Smart Sensor to collect and store concrete slab RH readings while the L6 Smart Sensor is covered with a temporary cap.
The potentially large number of readings that the DataGrabbers can engage the L6 sensors to record and store will greatly assist with a better understanding of the drying process as well as the dynamics that may be affecting the concrete drying time, according to the company. Trend analysis may be possible from the multiple data points collected with the help of DataGrabber with Bluetooth and DataGrabber.