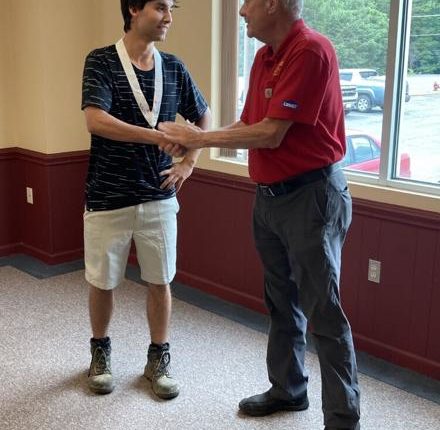 VTI students finish strong at national SkillsUSA competition | Multimedia
Two Virginia Technical Institute (VTI) students have received national recognition for their HVAC and plumbing skills.
Jacob Davis finished in the top nine in the nation in the SkillsUSA Virtual National Leadership and Skills Conference in the HVAC category and Gabriel Sacco took out the plumbing category outright. The virtual event took place from June 21-24. The competition allows students in a variety of professions to showcase their skills and can often lead to job openings.
"It gives you a little more confidence," Davis said of his experience at this year's state and national SkillsUSA competitions. "You can focus your mind on something and you can go out and do it."
Sacco said he enjoyed the new challenges the competition presented.
"Some materials I'd never worked with before, like cast iron," he said. "And then others I have. It just helped build on what I already knew."
Participants are assigned a series of tasks to complete in their respective field. In the case of Sacco, it built a working piping system from pipes of various materials, and in the case of Davis, it performed various maintenance and testing tasks on an HVAC unit. They were judged on how well they could follow the plans specified by SkillsUSA. This year they just entered VTI, but normally students travel from all over the country for a big conference style event.
"Seeing them actually put what they learned into practice and compete in a competition was pretty neat," Donnie Bryant, an HVAC instructor at VTI, said of the competition.
Bob Hefner, a plumbing instructor at VTI, said he is pleased that VTI has been able to send students to the state and national competitions this year, and thinks the competition has been good for the school.
"It shows the quality of students and children in our environment," he said.
Hefner said lesser-known facets of SkillsUSA offer life skills that can be used in any context, both within and outside the industry.
"It teaches you how to write a resume, it teaches you how to talk to people, it teaches you how to participate in teams," he said.
Hefner said companies contacted VTI instructors who pointed out potential job opportunities for both Davis and Sacco after the game.
Professional students who perform well in the national competition also have the chance to compete in the WorldSkills competition every two years at the international level, but like much else, the schedule of the event has been affected by the pandemic. According to SkillsUSA's website, the group will not participate in this year's WorldSkills competition in Shanghai, to which Sacco, as the national-level winner, is believed to have been invited. But both Sacco and Davis said they were excited to join SkillsUSA again next year.
"I like the challenge," Sacco said of SkillsUSA.
Davis also said he would encourage others to attend trade schools like VTI, and for students already in trade schools interested in SkillsUSA to give it a try.
"It's a great opportunity to take it one step further in life, set goals for yourself, and then tick them off," Davis said. "The sky is the limit."