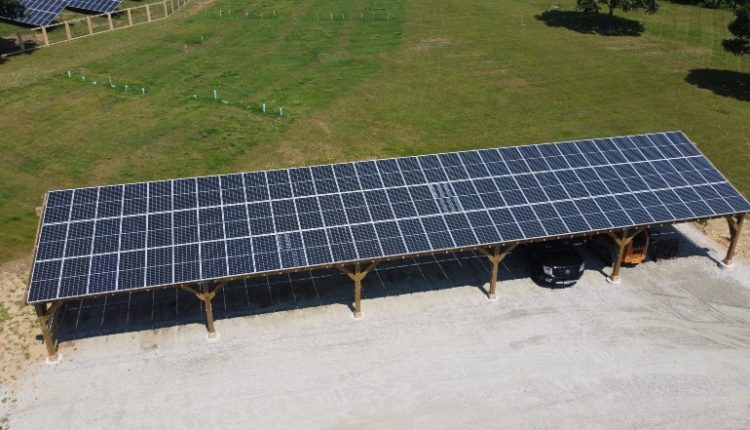 Verogy Solar uses 3 different mounting structures on retirement community PV project
Renewable Developer Verogy Solar has powered its newly constructed three-part solar project in the Essex Meadows retirement community in Essex, Connecticut. The 587 kW solar project is expected to produce nearly 700,000 kWh of clean energy annually.
It is constructed from solar components installed in three locations in Essex Meadows: a roof system, ground-mounted panels and a unique timber beam carport system. Built to blend into the picturesque Essex countryside, the wooden beams of the carport resemble a classic coach house – with the solar panels on top and EV charging stations below for a modern twist.
The solar project is the latest example of Essex Meadows' commitment to sustainability, which includes highly efficient geothermal heating and cooling, non-potable water irrigation and a comprehensive recycling program.
"Essex Meadows has a long history of embracing environmental innovation," said William Herchel, CEO of Verogy. "We were thrilled to have the opportunity to bring clean energy to this amazing community and its residents."
Verogy presented the project on June 10 to members of the Essex Meadows Green Committee, as well as residents and staff, outlining the environmental, financial and community benefits the solar panel will create.
"We are so pleased to have found a solar energy solution that matches the beauty of our site. Working with Verogy has been a win-win," said Jennifer Rannestad, Essex Meadows Executive Director.
The solar panels are owned by Essex Meadows and the community will receive all ZREC (Zero Emission Renewable Energy Credit) benefits, as well as the utility savings generated by the panels. Over the 35-year life of the systems, Essex Meadows can expect a net cumulative benefit of more than $4 million.
News item from Verogy