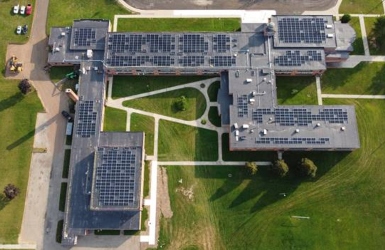 Verogy installs 835 kW of solar across Connecticut school district
Solar energy developer Verogy completed solar projects at three city schools in West Haven, Connecticut. The 1,888 panels of West Haven's three projects will produce approximately 969,685 kWh of renewable energy in the first year.
West Haven and Verogy have entered into a power purchase agreement (PPA) that allows West Haven to purchase electricity at a discounted rate. The PPA locks in this lower rate so that if electricity costs rise in the future, West Haven will continue to pay a lower amount for electricity for 25 years during the term of the agreement.
"We are grateful for our partnership with Verogy and the work they have done to install solar energy systems at three of our schools, furthering West Haven's goal of reducing our environmental footprint," said Neil Cavallaro, West Haven Superintendent. school. "Besides benefiting the environment, greenery also reduces taxpayers' costs, and is a great lesson for future generations who attend our schools."
The three projects are installed at the Carrigan Intermediate School (360 kWDC), Bailey Middle School (360 kWsub>DC) and former Anna V. Molloy School (115 kWsub>DC).
"Our West Haven projects not only help fight climate change, but they also deliver renewable energy at a lower cost to West Haven," said William Herchel, Co-Founder and CEO of Verogy. "We appreciate this unique opportunity to bring clean energy to West Haven."
Adam Teff, General Manager of Titan Energy's Generation Division, added: "The City of West Haven and Titan Energy have worked closely together for many years to manage the city's energy costs and lighting upgrades. We view our solar sourcing efforts as a natural extension of our mandate to keep electricity costs low and predictable in the long run."
News item from Verogy