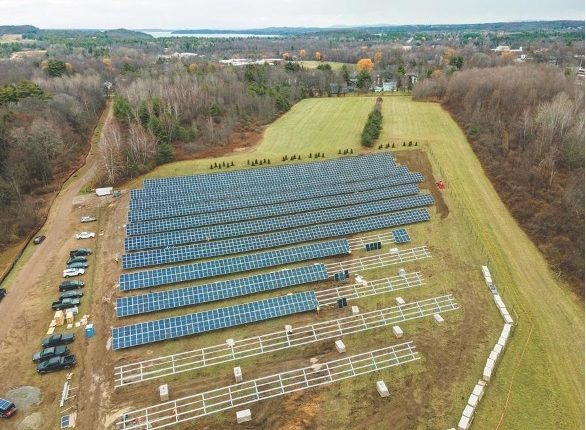 Vermont's Shelburne Museum will soon be fully powered by pollinator-friendly solar arrays
The Shelburne Museum in Vermont will be powered entirely by renewable energy when two new arrays built on museum grounds come online later this year.
Construction of the first phase of the project, a 500 kW array on land adjacent to the museum campus, was completed in December 2020. The second phase, a separate, smaller 150 kW array, south of the museum campus, is under construction and is expected to be completed in the fall. The museum partnered with Encore Renewable Energy of Burlington, Vermont, to develop, finance and build both solar projects.
"At Shelburne Museum, we don't just see our mission as focused on managing the museum's renowned collections, buildings and gardens, we also believe that responsibility extends to our impact on the planet," said Thomas Denenberg, Shelburne Museum Director. "This solar project is an important step in our continued commitment to sustainability."
The museum will purchase the netting credits generated by the systems at a discount, resulting in a significant reduction in electricity costs over the 25-year life of the project.
"Shelburne Museum's sustainability commitment only furthers its stewardship mission," said Chad Farrell, founder and CEO of Encore Renewable Energy. "We are proud to have played a part in making Shelburne Museum one of the few museums in New England to run entirely on solar energy."
In addition, Encore and the museum partnered with Bee The Change, a nonprofit in Weybridge, Vermont, dedicated to supporting pollinators through planting in solar fields. The soil beneath the two sites will be planted with pollinator-friendly ground covers to support vital habitats for bees, butterflies, hummingbirds, moths and other insects essential to food security.
"We are impressed with the museum's commitment to sustainability and stewardship," said Michael Kiernan, co-founder of Bee The Change. "The Shelburne Museum's location is arguably the most beautiful place we've had the chance to install a pollinator habitat. This habitat will be the embodiment of the museum's mission and an opportunity to educate people about the critical importance of pollinators for the reproduction of flowering plants and all species that depend on their fruit and vegetable nuts and berries, including our own. "
News from the Shelburne Museum