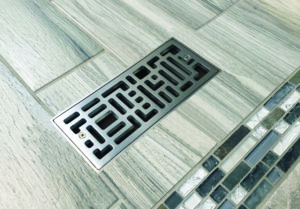 Ventiques floor accessories combine form and function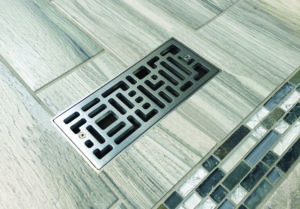 Today's floor openings, grilles and registers have a common goal, but not all products are created equal. One particular company, Ventiques, aims to differentiate itself from the rest through its line of specially designed yet highly functional recessed floor vents.
Ventiques recessed vents — composed of powder-coated aluminum — won't bend, crack, rust, peel or flake, the company said. The products are made of aluminum, can support a compressive strength of up to 850 pounds, and the recessed frame design provides a smooth transition between the front of the vent and the underlying flooring material. That means no raised vents above the floor and no more bumped toes or tripping hazards to worry about. And Ventiques' two-piece design allows ventilation grilles/grids to be interchangeable, giving the homeowner or end user more design freedom.
"What sets us apart from some of the others on the market is ours is a two-piece design with a frame and grill insert," explains Nick Seeman, chief sales associate for Ventiques. "It makes it possible to install almost any type of floor with our vents."
Whether it's tile floors, SPC, LVP, hardwood or laminate, all the installer needs to do, according to Seeman, is lay the floor, make the cuts around the frame design, and then drop the insert in. "It's pretty easy to do," he said.
Seeman remembered how the innovative product came about. "When Don Benowski, owner and inventor of Ventiques, was a tiler, he noticed that there was no recessed tile vent. His niece, who was dependent on a wheelchair after a car accident, would find that her wheelchair would have difficulty going over raised vents, which would present an everyday obstacle for her that could be easily avoided — if the vents were flat.
With that in mind, Benowski came up with a unique design that allowed the tile to sit on top of the frame, creating a perfectly flat, smooth transition that not only looked cleaner, but was also more functional. "He essentially invented Ventiques for two purposes," Seeman explained. "It's easier for the installers to use, and wheelchairs also roll smoothly over the top of the tills."
The user-friendly features of the product are not the only draw. They also offer retailers the opportunity to increase profit margins. "There's quite a bit of room for retailers to make money," Seeman said. "If someone is going to spend $10,000 on their floor, they can get this beautiful product that will complement their floor instead of the old, cheap-looking vents that stick out from the floor."
A vent for every need
While the original inspiration behind the development of the product line was the need to provide ventilation options for tile projects, Ventiques vents can be used with a variety of flooring materials, including laminate, carpet and LVP. Virtually any type of floor will work with Ventiques vents, according to the company. "There are a variety of different styles to suit just about any floor the customer is looking for," said Seeman.
Currently in development is a height-adjustable register that will open up even more design possibilities. This new exclusive and patented feature allows the user to add spacers and adjust the thickness of the vent to the floor height. According to Seeman, sizing will range from one-eighth of an inch to three-quarters of an inch to ensure a flush mount for every project, every time.
"This new feature will be in the pipeline in six to eight months," Seeman noted. "We've already made our prototypes and it's just going into production right now."