Vanadium redox flow battery CellCube introduced to U.S. market
Enerox GmbH, better known as CellCube, and G&W Electric have signed a partnership agreement to offer an integrated microgrid solution to the US market. G&W Electric adds CellCube's vanadium redox flow battery (VRFB) as a key technology to its portfolio of microgrid solutions and becomes a value-added reseller for CellCube's energy storage systems.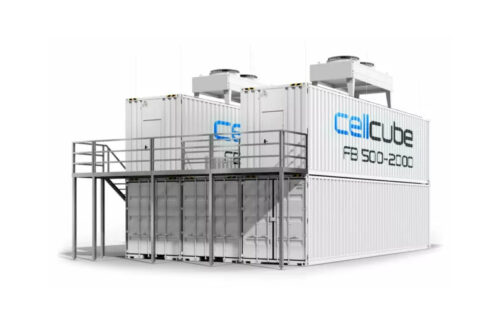 The collaboration came about through the construction of its own microgrid by G&W Electric in Bolingbrook, Illinois, with solar energy coupled to CellCube's latest battery technology. CellCube's Release 4 VRFB will provide more reliable and resilient power during seasonal peaks, power quality issues and potential outages.
"Having recently established a 100% subsidiary in Denver, Colorado, CellCube's next flagship project in North America is underway," said Alexander Schoenfeldt, CEO of CellCube Austria and USA. "We are thrilled to partner with G&W Electric after not only winning them over as a customer, but also by being involved in the fast-growing microgrid business. There is no better way to partner up and go to market than through such a large-scale real-life project."
G&W Electric's microgrid covers multiple use cases, including islanding capability, peak load shedding for energy savings and full cycle backup power to protect critical assets. It will integrate solar on the roof, support the continuous operation of the facility and actively participate in ComEd's demand response program by isolating itself from the grid to help reduce peak load demand. G&W Electric's microgrid will eliminate its energy dependency during times when prices are high, and it will provide more reliable and resilient power during seasonal peaks and blackouts.
The 2-MW/8-MWh CellCube VRFB will operate at up to 150% of its rated power to capture attractive power prices in the PJM market. The system is designed to deliver the overrated power of up to 3 MW for nearly two hours and up to four hours at 100% load.
"We see the microgrid market entering a new phase in which energy applications that allow the storage of electricity from renewable energy sources for longer periods of time are becoming increasingly important," said John Mueller, chairman and owner of G&W Electric. "CellCube's sustainable battery technology unlocks tremendous value for G&W Electric with the lowest total life cycle cost of any technology on the market."
News item from CellCube