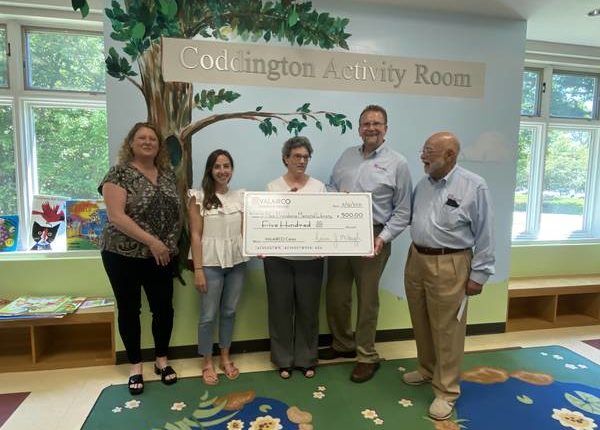 Valairco Heating and Cooling Presents New Providence Memorial Library with $500 Donation: Vote for Your Favorite Charity to Receive Next Valairco Cares Donation
NEW PROVIDENCE, NJ – New Providence Memorial Library (NPML) is the recipient of the Valairco cares quarterly donation for $ 500. Kevin McHugh, owner of Valairco heating and cooling, and company founder Richard Valenti recently presented a check to Lisa Florio, library director, Kelly Stieh, chair of the library council, and Samantha Insetta, children's librarian.
Valairco Heating and Cooling started the Valairco Cares program to celebrate their 50th anniversary. McHugh and Valenti continue to give back every quarter because they love to give as much as the nonprofit values ​​the donation. "Telling the stories of so many great organizations creates awareness for what you do," said Valenti. Each quarter, Valairco donates $ 500 to a nonprofit or charity based on the wishes of their customers, friends, and interested parties. This $ 500 donation to the library marks their 13th quarterly donation.
Florio noted that this donation also ties in with the celebration of the library's centenary. The library shares more information and updates about their 100th anniversary on their website.
NPML will use this donation for a new cabinet for their nursery. This allows child librarian Samantha Insetta to store the story time items there, instead of having to keep them in different places in the library, making them difficult to find, Florio said. "We have moved the location of her desk to a more prominent place in the room where she will be much more accessible to her small clients," she said.
Founded in 1921, NPML continues to stand out for their performance and versatility. The library's founder, Clara Wahl, left this library as her legacy. Learn more about the library and how Wahl made its mark by viewing Clara Says Library Centennial History Youtube video.
NPML's mission is to be the knowledge center of the community and serve as a catalyst to promote and encourage lifelong learning. The library serves nearly 16,000 people with more than 90,000 books in it and more than 500,000 downloadable items. NPML has several book groups, kids story times, and teen book boxes where you can sign up for the outdoor session or virtual session on their website. here. In addition, on June 24, registration will open for the Summer reading program .
A Centennial Celebration is celebrated throughout the summer and they couldn't be more proud of all their achievements. With safer conditions as vaccinations continue to increase, NPML cannot wait to continue to reopen more to the public and return to their active calendar.
"We're focusing on ongoing events to celebrate the anniversary, such as a Community Read this past winter, events that focus on local history, such as a recent talk on Union County History by County historian John Prescott, and a series of short videos on the history of the library as told by our founder, Clara Wahl, "said Florio, looking back at their events and moving forward to their future after a difficult transition to 2021.
It was a difficult time for the library during the pandemic, where they could not let people in until May 18, despite many restrictions. The library has been changed as much as possible to make the public happy and work has been done to make it as easy as possible. Now that the restrictions have been lifted, NPML employees look forward to welcoming the community back to the library. "We hope to have an open house in the fall," said Florio.
Upcoming Events:
May 31: Library closed
June 1: 10:00 a.m. Virtual Storytime – ages 4,5,6
1 June: 3:00 pm Volunteer for the presentation of the summer reading prize (groups 6-12)
1 June: 3:00 pm Volunteer for the presentation of the summer reading prize (groups 6-12)
June 2: 10:00 a.m. Virtual Baby Storytime
__________________________________
For more information about Valairco heating and cooling and the Valairco Cares program, visit their website www.valairco.com.
click here to vote for your favorite charity before July 31, 2021 to receive the next donation from Valairco Cares.
Valairco Heating & Cooling has been around for more than 50 years. They are family owned and operated and know that keeping your HVAC systems running smoothly is important to the comfort of our customers, their families and their guests. That's why their family is committed to taking care of yours no matter what the problem. Using only top quality parts to deliver a higher standard of service and all their services are backed by their 50 years of professional experience and 5 years of comprehensive warranties. This means that when you call our Valairco team, you will benefit to your complete satisfaction from their total dedication.