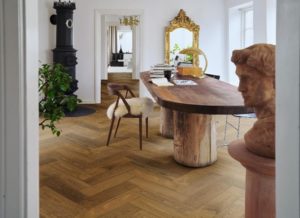 Unilin touts Unizip as unmatched solution for herringbone installs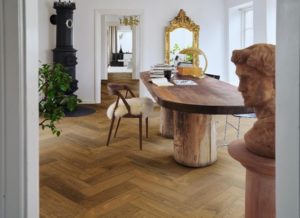 Waregem, Belgium—Unilin Technologies has unveiled the Unizip locking system, a solution for herringbone installations with one type of panel. The Unzip can be used for a wide variety of baseboards, such as laminate and SPC, the company said.
"With ease of production, supply chain and installation, Unizip is the right choice for herringbone floors," said Floris Koopmans, sales director, Unilin Technologies. "It has very valuable benefits for any flooring stakeholder."
According to Unilin, Novalis Innovative Flooring was the first user of the new technology for SPC, with huge success. The company launched Unizip locking products in multiple collections for the US and European markets.
"The reception of this product has been great," said John Wu, CEO of Novalis. "In order to keep up with the increasing demand, we have recently invested in more production lines for Unizip products. We are excited to lead the trend for herringbone SPC."
With increasing demand, six other manufacturers are following in the footsteps of Novalis and have invested in the jumper tool, Unilin said. One of these producers is Jiangsu Shengchang, a Chinese manufacturer that also produces laminate.
"As the first manufacturer in China for laminate Unizip, this profile has changed the game," said YH Tao, general manager of Jiangsu Shengchang. "Because there is only one type of panel, we have no lead time. Unilin Technologies engineers helped us with the configuration of the jumper machine in our online continuous production, without sacrificing quality or efficiency."
The Unizip technology would solve many of the logistical and installation problems associated with a traditional herringbone floor. Manufacturers no longer have to manufacture two different types of panels and therefore manufacturers, distributors and retailers do not have to stock a second type of panel. In addition, installation is much easier as installers don't have to worry about which panel to use and can just work with one stack of panels.