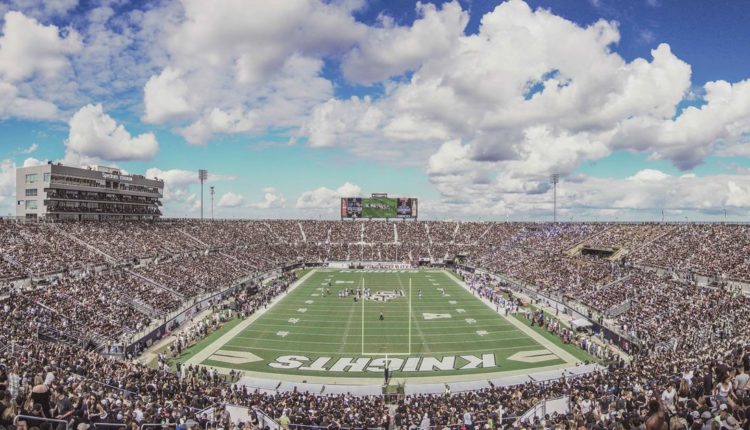 UCF football stadium naming rights deal with 3MG Roofing pending Board of Trustees vote Wednesday
UCF is close to finalizing a deal with 3MG Roofing on stadium naming, pending a vote from the Board of Trustees Wednesday.
3MG Roofing, a construction company based in Central Florida, has filed a letter of intent calling for a 12-year, $20 million deal, including the renaming of the UCF Knights football stadium "3MG Stadium," according to the Agenda of the board of directors for Wednesday's special meeting.
The agreement, which was set to begin September 1, calls for a $20 million payment over 12 years to the UCF Athletics Association, with annual sponsorship payments escalating across the payment schedule.
3MG Roofing became a UCF Athletics partner in January. As part of the deal, 3MG Roofing's logo was part of LED signage at UCF football and basketball games and is a media background sponsor.
3MG Roofing will replace Spectrum, formerly Bright House Networks, as the previous UCF football stadium partner, a deal that ended in the summer of 2020.
Following the end of Spectrum's deal, there was an agreement with RoofClaim.com, which reportedly paid UCF $35 million over 15 years, but it fell through. The football stadium on the UCF campus has been officially called "The Bounce House" since August last year.
Also on Wednesday, the Board of Trustees will vote on whether to accept the Hula Bowl's request to rent the Bounce House for its annual college football all-star game on Saturday, January 15, 2022.
Daniella Medina is a contributing writer for Black & Gold Banneret. Follow her on Twitter @danimedinanews.