U.S. market rebounds from pandemic lows, adds 21,500 jobs in 2021
The number of solar jobs rose in 47 states and increased by 9% nationwide from 2020 to 2021 to a total of 255,037 solar workers. These findings are in the annual "National Census of Solar JobsReleased today by the Interstate Renewable Energy Council (IREC), an independent national nonprofit. This job growth came in a year of record solar installations, driven by increased demand for renewable energy from residential customers, municipalities, businesses and electric utilities.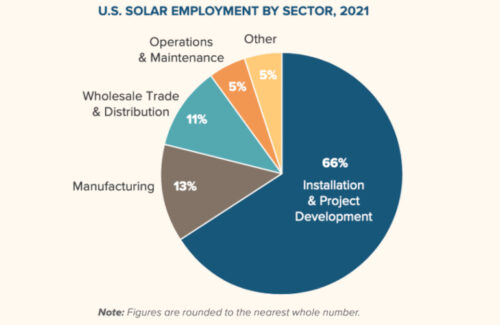 In total, 21,563 jobs were created in the solar energy sector in 2021, of which more than two-thirds of these new jobs (14,350) were in installation and project development companies.
"The U.S. solar industry bounced back strongly from the pandemic to expand its clean energy workforce to all regions of the country," said Larry Sherwood, president and CEO of IREC. "The future remains uncertain in the face of supply chain disruptions, trade problems and stalled federal policy in the early part of 2022. There is potential for unprecedented job growth in the coming years as federal, state and local leaders take action to expanding clean energy use and tackling climate change."
Over the past decade, solar jobs in the US have more than doubled from 105,145 jobs in 2011 to 255,037 jobs in 2021. The biggest growth has been in the installation and project development sector, where employment has more than tripled since 2011. up to 168,960 jobs in 2021.
At the state level, California continues to lead in total solar jobs with 75,712 jobs as of 2021, followed by Florida (11,761 jobs), Massachusetts (10,548 jobs), New York (10,524 jobs), and Texas (10,346 jobs). These are followed by Arizona, Colorado, Nevada and Ohio, each with 7,000 to 9,000 jobs. California also led for jobs added in 2021 (7,035 new jobs), followed by Massachusetts (+1,053 jobs), Nevada (+1,019 jobs) and Arizona (+932 jobs). Other strong growth states were Ohio, North Carolina, New Jersey and Georgia, each with 800 to 900 new jobs. A complete table of solar jobs by state and job growth as of 2020 is available online.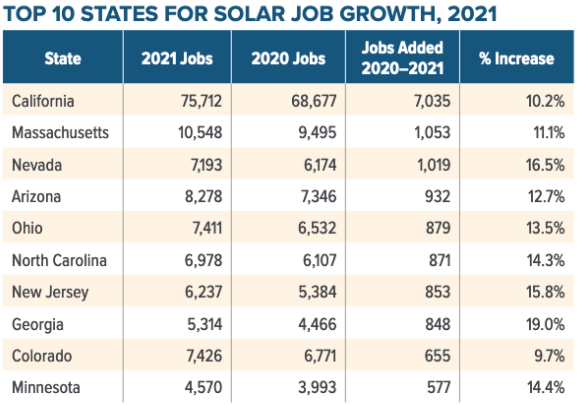 "Solar is an engine for economic growth, creating new jobs and helping us cope with the climate crisis," said Dan Reicher, Senior Scholar, Stanford Woods Institute and former US Assistant Secretary of Energy. "There is huge and untapped potential to expand solar installations and related jobs in the United States, in an environmentally sustainable way, while helping businesses and families access this renewable energy source."
The solar industry still has more work to do to achieve its diversity, equality and inclusion goals and extend the benefits of the clean energy economy to underrepresented groups. The report found that by 2021, women made up just under 30% of the solar workforce, with black workers making up 8% of the workforce, Latino or Hispanic workers 20% and Asian workers 9%. Less than a third of solar companies reported strategies to increase the number of female, ethnic or racial minorities or LGBTQ+ employees.
The solar industry can provide a pathway to advancement and a family-supporting career, even for those without a two- or four-year college degree. Less than a third of entry-level tanning jobs (31%) require a bachelor's degree, while 65% of companies offer on-the-job training. In a year of tight labor market, 89% of companies reported finding qualified candidates difficult, with 35% saying it was "very difficult".
This report analyzes data from the US Department of Energy's US Energy and Employment Report 2022 and an additional follow-up study on solar installations. Both studies were conducted by BW Research Partnership. The National Solar Jobs Census defines a solar worker as someone who spends 50% or more of their time on solar-related work. The National Solar Jobs Census was first published in 2010 by The Solar Foundation, which merged with IREC in 2021.
News item from IREC