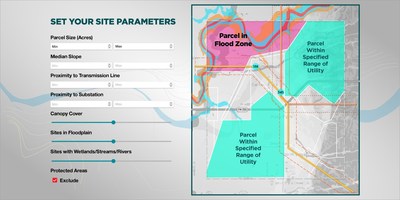 Transect software now features site selection tool for solar project development
With developers looking for an efficient way to tackle their site process, transect introduces a new feature in its on-demand environmental research platform that provides a systematic approach to finding the best land for project development.
Transect's site selection feature allows renewables developers to dynamically refine and filter a large tract of land to all ideally available plots that meet their defined specifications.
Traditionally, renewable resource developers have found the locating process tedious and frustrating, having spent hundreds of hours searching for a list of viable sites for their next project. With different approaches and methodologies to the location process, most development teams have inconsistent results that make them question whether they have found the best possible locations for development or not.
Transect's new site selection feature provides a technology-driven alternative that is faster than the traditional placement process, saving a significant amount of time and energy. Developers can responsively filter a list of ideal locations within their defined search area based on selected parameters and criteria such as median slope, proximity to transmission lines, canopy, proximity to substations, locations with floodplains, locations with wetlands, streams or rivers and protected areas and more.
"Having heard from many of our origination customers about the difficulties they have with finding development sites, we realized that our customers could benefit significantly from a feature like Site Selection in our Vision tool," said Robin Laine , co-founder and CEO of Transect. "As a former environmental consultant who worked every day solving environmental problems for my developer clients, my goal is for Transect to be a comprehensive solution that revolutionizes the project development process from inception to construction. Site selection is another of our features that contributes to this goal and helps developers recognize that what is good for the environment is also good for business."
News item from Transect