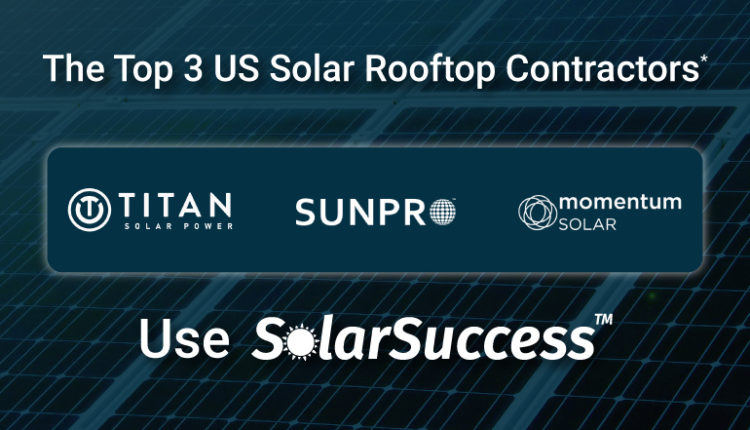 Top 3 residential solar contractors use Blu Banyan's SolarSuccess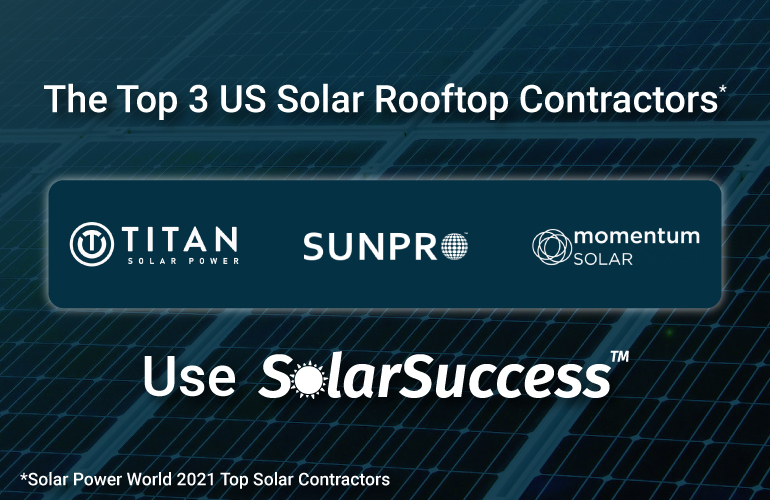 By Matthew Hirsch, CMO and Partner at TerraCurrent
A list of the best solar contractors in 2021 compiled by Solar Power World places three of Blu Banyan's SolarSuccess clients:Titan solar energy, Sunpro Solar, and Momentum solar energy—at the top of the ranking for companies that mainly serve the housing market. Solar Power World published the annual list in July, based on a nationwide survey of more than 400 companies.
Data from the past three years also shows that while the solar market is growing rapidly, SolarSuccess customers are growing faster.
Last year, Titan, Sunpro and Momentum were in the top 5 residential contractors in the Solar Power World ranking. In 2019 the trio was in the top 10.
"Companies that can reduce overhead, accelerate cash flow and increase profitability empower themselves to succeed in any market sector. Thanks to Titan, Sunpro and Momentum for not only scaling the fastest, but pushing the boundaries of innovation in residential solar," said Blu Banyan co-founder and CEO Jan Rippingale.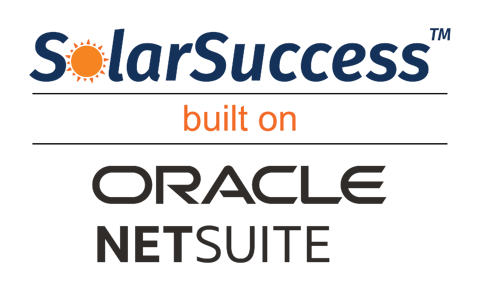 Tailored for solar companies, SolarSuccess provides end-to-end communications for every part of the business, including sales, operations and accounting. SolarSuccess is an award-winning NetSuite application optimized for residential, commercial, and utility solar installers and developers, with optional integrations for field service, distributor inventory, monitoring, dialers, lead generation, weather forecasting, training tools, and more.
Installers and developers can accelerate soft cost reduction and increase profitability with SolarSuccess. This solution provides complete visibility into cash flow, sales, costs, profitability, project status, inventory, updates and alerts, and other features essential to the growth and success of a solar installer.
SolarSuccess provides real-time visibility into all key functional areas including accounting, CRM, project management and inventory management through the use of personalized dashboards. SolarSuccess includes bluChat, which allows all authorized users – staff, partners, suppliers and customers – to communicate directly on a problem record for faster troubleshooting. Collaborate and communicate across teams and different departments to share data from one data source.

BluBanyan regularly publishes updates for SolarSucess customers, about twice a month. One of the newest features is a context-specific training tool, bluTraining, which simplifies onboarding and customer support.
"The platform that enabled Titan Solar Power to install more than 132 MW in 2020 can accommodate an unlimited number of users, projects and documents as we prepare for additional growth," said Aaron Casillas, Titan's director of technology and infrastructure.
Sunpro CEO Marc Jones said: "Now that all our departments can talk to each other, it gives us a lot of insight. Looking down the road, Sunpro Solar knows that as we continue to grow and scale, we have a product that can support us."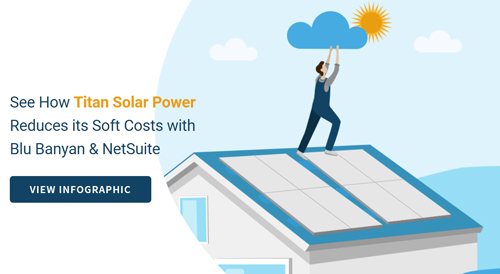 About Blu Banyan
Blu Banyan is an award-winning NetSuite Solution Provider and SuiteApp developer, with extensive experience in the solar distribution and installation industries. Blu Banyan's SolarSuccess is the leading NetSuite application designed to meet the specific operational needs of solar installers and developers. More information on blubanyan.com.
Sponsored Content by Blu Banyan