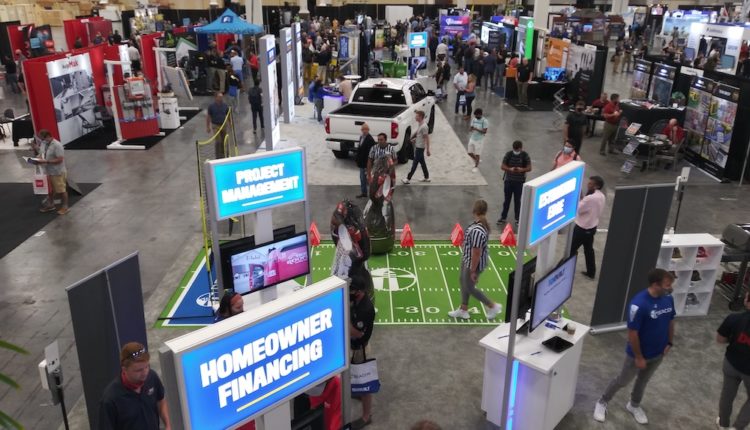 Today's Top Roofing Trends and Issues (IRE 2021)
The past year and a half has seen changes in every facet of the roofing industry, from shifts in what consumers want to the global pandemic that has affected everything from raw material production to the ordering process.
On-site at the 2021 International Roofing Expo in Las Vegas, BUILDINGS highlighted these top trends and issues in the roofing industry.
1. Disruption of the supply chain
The main topic for the exhibitors was the disrupted supply process. COVID-19 affects every industry and roofing is no exception. An informal poll by IRE found that 94% of responding roofers have experienced supply chain issues that affect roofers' ability to obtain the materials they need for projects.
Building owners who need to have roofs repaired or replaced may find that costs have risen as roofers and manufacturers struggle to get roofing materials in the quantities they need.
Some companies have been able to minimize wait times by sourcing materials made in the US, but COVID is still causing some delays.
[Related: Florida Condo Collapse: Takeaways for Building Owners]
"Many companies in our industry produce abroad or get materials from abroad. We manufacture in the US," explains David Stahler, director of distributor development for clamp manufacturer S-5!. "It's our own factory and all the material we get is produced in the country – it's not from Asia, so we have more control over lead times and QA. We feel confident [supply chain disruptions], but where certain companies are out for three to five months [with backordered materials], we just haven't experienced the same major delays."
2. Changing Regulations
States are increasingly taking action against products with a high global warming potential (GWP). A series of new state regulations that went into effect on Jan. 1 targeted HFC-134a, which is commonly used as a blowing agent for extruded polystyrene (XPS) insulation.
Manufacturers responded by reworking their product formulations to eliminate HFC-134a without affecting the strength of their products, said Tiffany Coppock, a commercial construction specialist for Owens Corning.
[Related: Top 3 Solar Trends to Watch]
The new regulations have come into effect in Colorado, California, Vermont, New York, New Jersey, Massachusetts and Maryland, and Delaware will adopt similar regulations, Coppock said. Canadian environmental regulations have also been a major reason for the need to find alternatives to HFC-134a.
3. Material Preferences
Silicone roof coatings are becoming increasingly popular as building owners strive to maintain buildings with a solution that is easy to apply and is water resistant, explains Chris Underwood, product marketing manager for KST Roof Coatings.
"Acrylic has always been king with asphalt in second place, but both have continued to lose market share to silicone and other technologies. The biggest shift in technology has been to silicone. We have seen a huge increase in silicone based on product mix for roof coating," Underwood said. "While silicone isn't number one, it certainly has shown the most growth, in part because of its ease of use — you don't necessarily need a full system and many manufacturers will claim one coat of coverage at the right millage."
These influential trends and issues are likely to persist for the foreseeable future as COVID-19 cases continue to spread across the globe. And while change and uncertainty may be the challenges today, innovation is sure to follow in an industry characterized by resilience.
Read next: The magic of water features in a post-COVID world