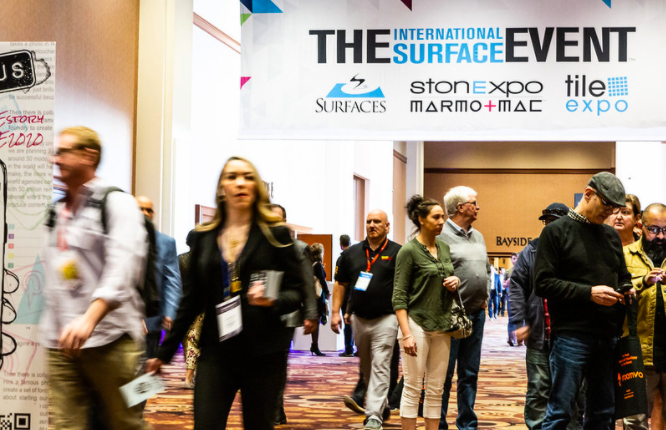 TISE moves forward with 2022 event

Las Vegas: The International Surface Event (TISE) 2022: SURFACES | StonExpo/Marmomac | TileExpo will continue as scheduled from February 1-3, 2022, here at the Mandalay Bay Convention Center.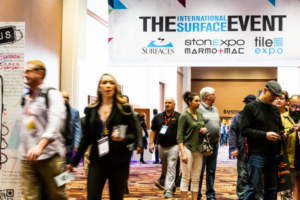 According to the organizers of the show, the flooring community is eager to reconnect, with new visitors and exhibitors registering every day, and the show is committed to providing that important platform for them. While success is a top priority, so is safety. The show's organizers said they wanted to reassure attendees that the event will take place, and that TISE puts safety at the heart of the event experience, so the industry can reconnect and get back to work, while keeping the community safe.
TISE 2022 follows all local health guidelines, including Nevada's mandate to wear masks in all public places, regardless of vaccination status. The rule applies indoors only and covers all casinos, meeting rooms and convention centers and restaurants/bars in Las Vegas and throughout Nevada.
Masking is an important tool to help provide a safer environment during this current wave of Omicron, and TISE appreciates all TISE 2022 participants who meet this state mandate on behalf of everyone who enjoys coming to TISE this and every year.
In addition, TISE will have hand sanitizer stations throughout, as well as an improved sanitation schedule and widened aisles to promote physical distancing.
The International Surface Event said it is working closely and communicating with the City of Las Vegas and local health officials for their expertise and guidance, and will continue to update attendees on any changes to the health and safety program in the future. .
TISE said it was delighted to welcome visitors to Las Vegas in February and looks forward to kicking off 2022 with a fun, safe and successful show.
WHAT YOU WILL SEE
According to the organizers of the show, there is an astonishing floor plan ready for the industry at TISE 2022, including Shaw's return and Cali's first time exhibiting at SURFACES, the next plans for the Mohawk Momentum Road Show, the new home exclusive to SESA tools and machines exhibit at StonExpo, Tile Nation and Tile Money hosting the TISE Tv Studio and Sound Stage at TileExpo – more products, more education, more networking, and a lot of fun.
In addition to all the products, TISE organizers said they've prepared an incredible array of educational opportunities on and off the floor. Learn more about the education programs that have been prepared for the industry. For the full schedule, check back online for updates on education and events.
WHAT IF YOU CAN'T ATTEND
TISE also has attendees there. While this isn't like being in Las Vegas and experiencing the products and networking first-hand (nothing replaces the tactile nature of surface materials for product sourcing), TISE said it has prepared a hybrid experience for those who can't attend to to include them in the experience: the TISE Live Virtual Event | Vegas 2022 Edition. Attendees in Las Vegas will also have access to this private hybrid Facebook event, allowing the entire industry community to connect from February 1-3. More information here.
REGISTER
The industry can confidently register for in-person attendance at TISE 2022 through the TISE registration portal here. Register for the best price before the on-site pricing starts on January 28, 2022. Visitors to hybrid events will also find their registration option in this portal.