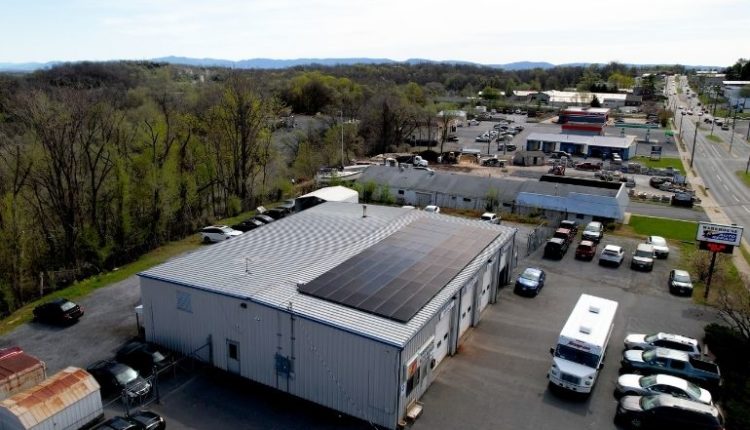 Tiger Solar offsets 100% of car service center's electric needs with solar power
Business owners like Andrew Wiley at Consumers Auto Warehouse (CAW) are identifying options to reduce high energy costs while also contributing to the environment. Wiley's dealership has made the switch to solar power, selecting local solar contractor, Tiger Solar, to design, build and install a 28.88-kW system. The system is expected to offset 100% of the electricity needs in the CAW's service center and save $2,400 in utility expenses annually.
This project is one of four solar-powered dealerships in Shenandoah Valley that Tiger Solar has managed from design and engineering to procurement and construction. Tiger Solar's dealership partners in the Valley include CMA's Chrysler, CMA's Valley Honda, and most recently, McDonough Toyota. Automotive dealerships lend itself exceptionally well to the benefits of solar power, particularly due to high energy costs and ample flat roof space. Incentives and benefits like the federal Investment Tax Credit (ITC) and Modified Accelerated Cost Recovery Systems (MACRS) have motivated many commercial businesses to consider solar and save on operating expenses.
"We are committed to being good environmental stewards and supporting clean energy, recycling and waste reduction," said Andrew Wiley, president of CAW. "The addition of solar power will eliminate our net use of electricity from the grid by combining the power of the sun with our current waste oil recycling clean-burn furnace. We also buy our oil, washer fluid, coolant, and transmission fluid in bulk refillable containers to reduce waste. Our dealership is exploring the shift towards electric vehicles. We just purchased a 2022 Tesla Model 3 for our rental fleet, and we have a Tesla charger at the main dealership."
The Greater Augusta Chamber of Commerce will host a ribbon cutting ceremony on Friday, April 22 from 11:30 am to 12:30 pm to celebrate the newly solar operated service center.
News item from Tiger Solar (formerly Altenergy, Inc.)