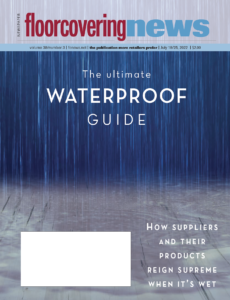 The Waterproof Flooring Guide 2022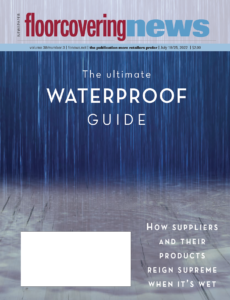 ttoday's waterproof floors cannot be pigeonholed; they range from sheet vinyl and SPC to laminate and composite wood/rigid core hybrids. Also waterproof is no longer the domain of traditional resilient suppliers. Today, a carpet factory or hardwood manufacturer is just as likely to make the switch to waterproof floors.
This constellation of companies and floor types reflects today's market, one that is becoming increasingly crowded with new entrants vying for showroom relevance as they try to catch lightning in a bottle like COREtec did 10 years ago.
FCNews2022 Ultimate Waterproof Guide showcases the latest and greatest waterproof products, with ongoing trends such as wider/longer shelves and newer innovations such as advanced imaging technology, all with the aim of creating a winning formula in retail.
An example of this is Cali, which uses more advanced imaging technology to deliver the sharpest detail it has ever produced. The colors are richer, while specialized relief-in-register treatment creates impressive realism to the point that when you see a knot in the grain, you feel the texture of that knot too.
This year's guide includes both newcomers and traditional hardwood companies offering their own versions of waterproof floors. Poplar Hill's new Riverwood XL line, for example, is a collection of five contemporary designs with realistic textures. The overall thickness of Riverwood XL is 6.5mm with IXPE pad attached, and the 30 mil wear layer has the durability to withstand both residential use and heavy commercial traffic.
Johnson Hardwood introduced its own 30-mil wear layer, which it says will accomplish two goals: provide greater abrasion resistance and allow for deeper relief, ultimately providing a more aesthetically pleasing 'real wood' image.
Products made in the USA are also represented in this guide. In September, Bella Flooring Group unveils its first domestically produced waterproof SPC collection. Dubbed American Woodlands, Bella has partnered with one of the most experienced rigid core manufacturers in the world with an emphasis on quality, styling and prompt service.
Engineered Floors' recent investment in domestic LVT manufacturing is paving the way for products featuring the company's very latest digital printing technology, as evidenced by its flagship digital printing product Ensignium.
Wellmade, meanwhile, has rolled out its waterproof HDPC/SPC Vinyl Plank collection, which is manufactured at the company's new state-of-the-art facility in Cartersville, Georgia.
Then there's Southwind's new domestically made SPC line, aptly named Liberty Plank, which aims to provide durable flooring for today's discerning consumer.
While rigid core/SPC dominates the waterproof landscape, floor sellers should not overlook luxury vinyl and its many benefits. In particular, Tarkett's TruTEX sheet range is designed to resist mold and mildew thanks to an innovative textile backing.
Stanton's foray into hard surfaces has turned into a full-fledged invasion, as the DWF collection features 84 colors in either traditional stairs or the company's new flagship. These collections include a wide variety of trending visuals.
Launched in 2019, The Dixie Group's TruCOR brand has worked to build an innovative portfolio of hard surface offerings to differentiate itself from the competition. Since then, it has marketed unique collections in both WPC and SPC constructions.
In these pages, readers will learn more about waterproof floors – how the products are made, how they perform, and how to position and market them to consumers. The goal is to arm store owners and salespeople with product knowledge and information about trends, so they can better respond to customer inquiries.
View the full guide here.