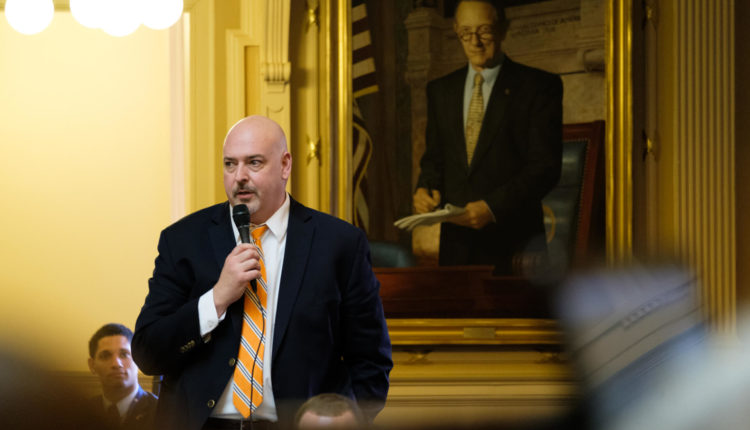 The Va. House GOP came up with a spending plan. It lasted 2 minutes.
Republicans in the Virginia House of Delegates on Tuesday offered their own bill to spend billions in federal rescue funds, calling for a plan they say would ban door-to-door vaccination campaigns, give $5,000 bonuses to every police officer in the state and would restrict how students are taught about race and discrimination.
After a two-minute speech by minority group leader Todd Gilbert, R-Shenandoah, the measure was promptly voted down by the Democratic majority.
"I had hoped that in this process we would at least have had a chance to explain our bill," Gilbert said before his time expired.
The General Assembly held a special legislative session Monday to direct the spending of US Rescue Plan Act funding.
Democratic leaders had announced in advance that they already agreed on a set of spending priorities and would not respond to proposed amendments. Their spending plan is spending $700 million on universal broadband coverage, $250 million on improving schools' HVAC systems, and nearly $1 billion on saving the state's unemployment fund, among other priorities.
The GOP proposal left some of those ideas intact, including funding for the broadband plan, which a caucus spokesperson called a good idea.
In other areas, they have pursued tweaks. Rather than limit school improvement funding to HVAC, the GOP proposed making it available for any renovation project — something Democratic leaders say is limited by federal rules.
The GOP also proposed spending more money on public safety, including by expanding Democrats' plans to give $5,000 bonuses to all Virginia state police officers to include all law enforcement officers in the state. They also proposed dramatically increasing Democrats' $2.5 million plan to spend on gun violence prevention programs.
The plan also included language related to conservative issues that dominated right-wing news outlets.
Garren Shipley, a caucus spokesperson, said the legislation would have banned door-to-door vaccination campaigns, limiting $20 million in outreach funding to other marketing and outreach efforts. However, the actual text of the GOP proposal does not include the restriction, a mistake Shipley attributed to the hasty approach Democrats took to the legislative session.
And it would have recently adopted language passed by the Idaho legislature that focuses on critical race theory without specifically preventing it from being taught.
According to the Associated PressIdaho's law "prohibits the imposition of belief systems on students that claim that a group of people as defined by gender, race, ethnicity, or religion is inferior or superior to others."
Democrats have dismissed complaints that they kept the GOP out of the legislative process by refusing to consider their proposals.
In a speech on the floor of the House Monday, the chairman of credits Luke Torian, D-Prince William, said he "never closed the door" on his colleagues. If Republicans wanted to be more involved, he said, they should have taken it upon themselves to intervene ahead of time.
"The disappointment does not come from the majority party," Torian said. "The disappointment comes from their own leadership."
On Tuesday, Gilbert said GOP lawmakers "didn't want to knock on the door of the smoke-filled room. … We wanted to participate in this process."