The United States is installing less solar today than at peak of coronavirus pandemic
The U.S. solar industry had its lowest quarter of installations since the start of the coronavirus pandemic, according to the "Understanding the US solar marketreport released today by the Solar Energy Industries Association (SEIA) and Wood Mackenzie, a Verisk company. In the first quarter of 2022, price increases and supply chain restrictions continued to weigh on the solar market as the industry installed 24% less solar capacity than in the first quarter of 2021.
The White House's executive move this week to provide a two-year suspension of new solar tariffs gives companies certainty to accelerate projects delayed by the Department of Commerce's anti-circumvention investigation. Without this action, there would have been massive project delays and cancellations by 2022, jeopardizing President Biden's climate goals.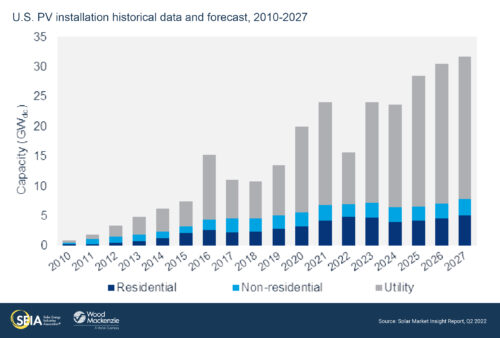 Since the case was initiated in March, most solar module manufacturers have halted deliveries to the United States, causing an industry-wide shortage of modules. These supply constraints are expected to ease as manufacturers ramp up shipments to the US in the coming months.
"The solar industry faces multiple challenges that are slowing America's progress on clean energy, but the Biden administration's action this week provides a shock of assurance companies need to keep projects moving. and create jobs," said SEIA President and CEO Abigail Ross Hopper. "President Biden has clearly noted how the industry is hampering the resilience of the power grid. By acting decisively, this administration is breathing new life into the clean energy sector while positioning the US as a global leader in solar energy production."
In the past nine months, projections for 2022 have been halved due to ongoing supply chain challenges and anti-circumvention research.
"The White House executive action brings relief to the U.S. solar industry, which is steeped in uncertainty over the anti-circumvention investigation launched in late March by the Department of Commerce over a petition filed by Auxin Solar , a manufacturer of domestic modules," said Michelle Davis, chief analyst at Wood Mackenzie. "Nevertheless, this announcement is expected to create approximately 2 to 3 GW of upside potential for Wood Mackenzie's base 2022 outlook, assuming the global market resumes normal operations."
The declines are due to the utility market experiencing its lowest quarter since the third quarter of 2019 with 2,173 MWdc installed, a 41% decline from the first quarter of 2021 and a 64% decline from the fourth quarter of 2021. 2021. added new projects to the pipeline since 2017.
The commercial market has also fallen, with only 317 MWdc installed, an 11% year-over-year decline and a 28% quarter-on-quarter decline. Community solar installed 197 MWdc, up 16% year-over-year but down 59% quarter-on-quarter.
In comparison, residential solar had its largest quarter in history with 1,200 MWdc installed, up 30% from Q1 2021 and up 5% from Q4 2021, demonstrating the robust strength of the residential segment – a market that is less sensitive to price fluctuations.
With trade certainty in place, the solar market is looking at the fate of clean energy policies in a federal reconciliation bill. Long-term tax credits, manufacturing incentives and other provisions will significantly boost solar and storage deployments and help keep pace with President Biden's clean energy goals.
News item from SEIA