The IRA offers an opportunity to rethink solar module manufacturing in America
By Patrick Regan, President, Crossroads Solar Energy
The climate provisions in the Inflation Reduction Act open a window on what could be. In that window is a model for rethinking and revolutionizing the way we manufacture solar modules in America.
Crossroads Solar has shown that in the 2020s you can build a solar module manufacturing facility from the ground up, in the US and with a workforce of men and women who traditionally struggle to find good work. All Crossroads employees are criminals reintegrating into society.
Crossroads is a manufacturing facility that produces fully certified (UL/IEC 61730 & 61215 and CEC) solar panels in the range of 10 to 12 MWh per year. Our panels are sold regionally to the installation community and nationally through Kranich Solar, and are used on homes, ranches, and commercial buildings throughout the upper Midwest. We've sold every module we've produced so far and have a backorder of sales.
The uniqueness of Crossroads is not only that we are a US-made module manufacturer that started from scratch in 2021, or that we have a workforce that consists only of second-chance citizens, but rather the potential for our production model to revolutionize the solar industry in this country.
Today's model consists almost exclusively of gigawatt-sized manufacturing facilities that are highly automated, mostly foreign, subsidiaries of multibillion-dollar companies that employ a highly skilled, highly skilled, and mostly executive workforce. But Crossroads shows it doesn't have to be that way; that we don't have to organize solar energy production around the highly automated, highly corporate structure.
It would take 25 facilities the size of Crossroads, each with an annual output of 40 MWh, to match the output of one gigawatt plant. At first glance, and perhaps to the local MBA graduate, this seems inefficient. But imagine a 40 MWh facility that sits on tribal land and employs community members who have traditionally struggled to find meaningful and well-paid jobs, or in a former coal mining community where the jobs have been displaced by the need to wean ourselves. of a dependence on coal. A facility like Crossroads scaled to produce in the 40 MWh range would provide jobs and skills for those on the labor side of our economic engine. Instead of a front office with engineers and accountants, presidents and vice presidents, we could have 25 men and women on the floor producing panels, with relatively few in the executive suite. This is what the Crossroads model has shown as an alternative path to successful solar panel production.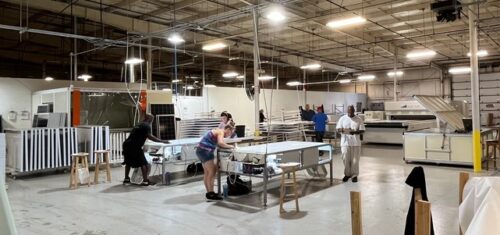 So imagine those 25 small-scale manufacturing facilities spread across indigenous lands, former coal mining communities and inner cities, each producing panels for a growing solar industry. Crossroads Solar has brought on board men and women who have spent years to decades in prison, often without skills or, in a few cases, knowledge of computers or mobile phones. We trained them to produce first quality panels and to be committed to the experiment we call Crossroads. The customers who purchase the Crossroads panel are excited to be able to offer a genuine American-made product, and their customers are equally excited to be able to support the American-made panels AND the social mission that the Crossroads project underscores.
Crossroads is a for-profit company. The margins are tight, the compensation structure is flat and the enthusiasm is high. This model could be transported all over the country.
A primary concern could be 25 individual panel manufacturers competing with each other, but I don't think that's the right focus. Most of the Crossroads market is regional, maybe even local. Yes, Krannich markets our panels nationwide, but our regional trade is thriving. These 25 facilities, intelligently spread across the country, would work together, not compete. One in Virginia, one in West Virginia, one in Kentucky for example. With the increasing demand for solar energy due to recent climate legislation, each of these facilities would find enough local markets to keep each other away.
In addition, 25 independent production facilities on the purchasing side of the ledger could work together. Crossroads struggles not with figuring out how to compete on a smaller scale, but trying to figure out how to navigate the supply chain on this scale in a world where suppliers favor the huge market over the small one. If purchasing power could be aggregated — essentially a purchasing cooperative — these smaller-scale facilities would not face price pressures that most would assume would be less competitive. Buying together, selling independently, and hiring and training locally is a recipe for success that even some gigawatt producers couldn't navigate. For example, LG closed its doors to solar power production because it couldn't find a way to compete in this tight market. Scale may have worked against it.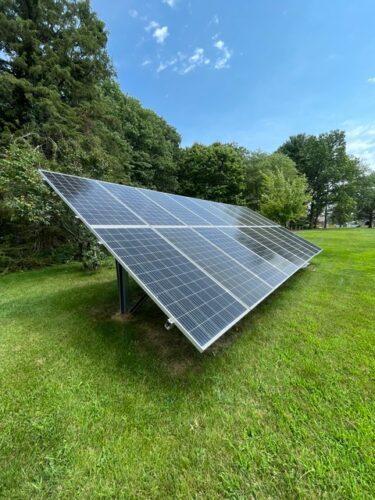 I call this a distributed solar manufacturing model, and I've had conversations with people from Alaska to Louisiana about developing a manufacturing facility in their local communities. What Crossroads brings to the table is the knowledge base to start from scratch, understanding of production processes and efficiency, and under the right circumstances Crossroads can also provide an abbreviated pathway through the certification process. Combined with economies of scale in the procurement of raw materials, the distributed model would provide better access to solar panels for local installers who often struggle to buy from the major producers. When you are forced to buy in container quantities to secure competitive prices from major manufacturers, smaller installers are faced with the choice of either being less competitive in their market or locking in their money and limiting cash flow. Small scale production like Crossroads allows us to sell on the pallet or truckload because the size makes us agile. A distributed manufacturing approach would increase access to the smaller community of installers and thereby increase access for the individual trying to find a way to use solar energy as they take advantage of solar incentives.
Scale matters. Here at Crossroads, our first project has shown us to be a little too small. But the climate regulations in the IRA help provide smaller groups with the means to initiate the development of large-scale solar energy production in their communities. Either the 30% production credit or the $0.07/watt output credit reduces risk and makes the private partnerships needed to run a distributed model much, much easier. And investments by state and local governments that recognize the value of targeted solar employment can also help stimulate creative financing from private interests. These would be high paying jobs with benefits that require skills that can be learned and that can breathe new life into a local workforce.
It's hard to overstate the value of the IRA's climate assessments by providing an opportunity to rethink how we view the efficiency of solar production in America. It will take coordination, foresight and some community involvement, but a model is on the table to ensure climate relief and workforce development at a scale that could revolutionize solar module manufacturing in the U.S.
---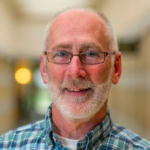 Patrick Regan is a former professor of political science at the University of Notre Dame and Binghamton University. In 2019, he resigned from Notre Dame to co-found Crossroads Solar. Today, he is a full-time solar panel manufacturer, developing a model to revolutionize the way we manufacture panels in the US and the way we think about workforce development.