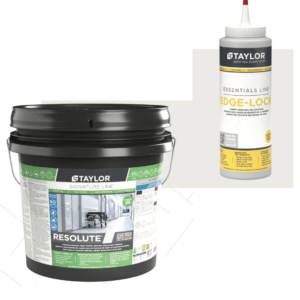 Taylor Adhesives reveals new product sizes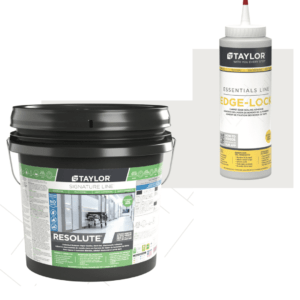 Dalton—Two Taylor Adhesives products are now available in new, easy-to-use formats.
Taylor's Edge lock is now available in an 8 ounce squeeze bottle. According to the company, Edge-lock is popular with installers as the go-to adhesive for sealing carpet edges and will now be easier to use. Edge-Lock features blacklight tracers and produces a water-resistant bond with a non-staining, solvent-free, easy-to-clean formula.
Taylor's Signature Line Resolute expands to a 4-gallon bucket. Resolute is now available in two sizes: a 2-gallon resealable pail and a new 4-gallon resealable pail. Installers can now double the coverage of one bucket instead of processing two. According to the company, Resolute is Taylor's one-step, elastomeric adhesive that is perfect for resilient floor installations because it has unlimited moisture protection (porous board) and cost-saving potential. No moisture or pH testing is required and no moisture barrier under the plate is required. Resolute also has current liquid resistance (water, spill, etc.) and provides a permanent, watertight bond.