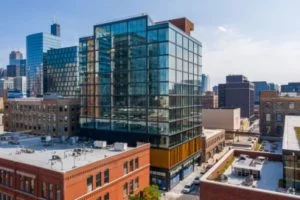 Tarkett opens new Fulton Market showroom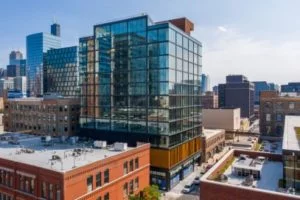 Solon, Ohio—Tarktt recently held the grand opening of its newest showroom, located in Chicago's Fulton Market District. To celebrate the grand opening, Tarkett is inviting architects, designers and other industry professionals to participate in a series of events called Tarkett Design Days 2022, June 13-15, the dates of the NeoCon show in Chicago.
"Fulton Market is home to some of the most innovative global organizations and serves as a destination for leading commercial interior brands," said Tal Fegan, senior vice president, Strategic Accounts for Tarkett North America. "The neighborhood is a creative hub for design professionals and has a great culture scene for music, art and culinary experiences. We believe it is the perfect central location to serve our customers and employees with beautiful displays of Tarkett's unique product solutions."
Fulton Market District is widely regarded as one of the most popular commercial real estate submarkets in the Chicago area, the company said, with hotel accommodations, bars, restaurants, shops and notable corporate residents such as Google, Dyson and MillerKnoll. In addition to the 10,000-square-foot space, Tarkett has access to the building's rooftop terrace with 360-degree views of the city's skyline. Overall, the space is designed for the needs of today's work styles, with natural light, access to the outdoors and flexible spaces for both independent work and collaboration.
The new showroom was designed by Kuchar, a woman-owned boutique in Chicago. Project designer Rachel Benitez said the space takes inspiration from the dynamic Fulton Market neighborhood and its industrial roots.
"The space is surrounded by floor-to-ceiling windows, so one is surrounded by natural light, downtown views, urban life and the constant movement of the former industrial district. A sophisticated, neutral palette creates a clean backdrop for soft nods to the character of the neighborhood. The aesthetic is really a celebration of the floor," Benitez said.
Design days events
According to the company, Tarkett Design Days will feature new product introductions, showroom tours and a series of educational seminars where leading experts will discuss the latest research into the future of workplace design, biophilic inspiration and healthy materials, along with a truly unique networking event focused on representation and inclusion.
The event program includes:
Reception on the roof
Monday 13 June, 15.00 – 18.00
Emerging Trends: The Future of the Workplace 2030 with Hannah Nardini
Tuesday 14 June, 08.00 – 9.30 hrs
Nardini is the founder of WKSpace and has over 20 years of experience as a designer and workplace strategist. She has conducted an impressive body of research throughout the pandemic, tracking the changing attitudes, wants and needs of workers and employers around the world.
Using the latest US data and aggregated insights gained through Tarkett North America's long-standing relationship with CoreNet Global, Nardini will provide a 360-degree view of the future workplace as seen through the lens of 'people-conscious design', health and welfare. being, sustainability, diversity and inclusion and social impact. She examines emerging trends in the workplace and discusses the design strategies needed to optimize the office by 2030.
Women of color in design
Tuesday, June 14, 10 a.m. – 10:45 a.m.
After George Floyd's murder, a group of industry professionals and women of color got together for an impromptu virtual conversation that gave them space to connect and mourn. The time was so valuable that the group met regularly to discuss relevant topics, including leadership, education and community involvement. Their numbers eventually grew to include students and professionals from various disciplines, and Women of Color in Design was formed.
During Design Days, the members of Women of Color in Design have the opportunity to meet each other in person for the first time after more than two years of collaboration. Women of color are invited to attend this celebratory networking event and consider joining.
Get inspired: circular stories, biophilia and regenerative design
Tuesday 14 June, 12.30 – 13.30
Speakers:
Ren DeCherney, Director of Materials, Impact Group for The International Living Future Institute
Rachel Berkin, Sustainability Product Manager for Tarkett North America
Join Tarkett to welcome the International Living Future Institute as they share the inspiration behind their rigorous standards. As a community, we can learn to design, specify and incorporate products that positively impact our world through the principles of circularity, biophilia and regenerative design. Tarkett's latest collection, Inspired Nature, is designed with biophilic principles and circular strategies. Discover how these core principles can positively impact our planet through thoughtful design strategies.
Specify sustainability: Transparency tools + technology for optimized material selection (session on rooftop)
Tuesday 14 June, 16.00 – 17.00 hrs
Speakers:
Annie Bevan, Executive Director, Mindful Materials
Kathleen Egan, CEO and Co-Founder, Ecomedes
Dhruv Raina, Director of Product Management at Tarkett
Join Tarkett and his partners at mindful Materials and Ecomedes for a rooftop session that explores a world where healthy materials are the norm rather than the exception. Durability remains a prominent factor in specifications and flooring choice. Tarkett is committed to material transparency, optimization and circularity for its extensive product portfolio, all of which are free of antimicrobials and orthophthalates. This can only be achieved through collaboration with industry to catalyze technology to help teach, specify and communicate optimized materials for people and the planet.
Everyone who registers and attends the Get Inspired or Specify Sustainability events will receive a pair of Allbirds Tree Runners shoes as a special thank you and reminder that Tarkett demonstrates Proof every step of its sustainability journey.
New Product Introduction
In addition to the events above, Tarkett will be launching its latest product collection at the event and will also be previewing a few others to come.
Inspired Nature is a new collection of modular carpet and Powerbond hybrid resilient sheets, along with a coordinating digitally printed LVT, that explores the wonder of nature and its ability to heal. Available in June, the collection was born at the height of global isolation – a time when we saw the natural world begin to restore itself to a healthier balance.
Tarkett will also give a sneak preview of its new 4.5mm LVT collection. The new LVT can be installed alongside Tarkett's modular carpet products, ethos and Flex-Aire Modular, with no transitions, and also helps soften acoustics to support more productive workspaces. The collection will be available in early 2023.
In addition to these new product releases, the entire Tarkett Solution SPECtrum will be on display in the Chicago showroom, including Victory LVT, Renewal Series, Acczent vinyl and LinoFloor. The company will also showcase custom LVT and soft-surface designs, available through the Tailored by Tarkett program.
The Fulton Market showroom is open June 13-15 from 8am-5pm. Tarkett offers a free shuttle service from the Merchandise Mart area and downtown Chicago to Fulton Market.