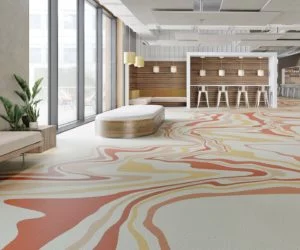 Tarkett implements new carbon strategy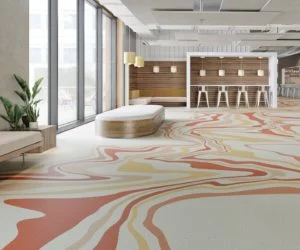 Solon, Ohio – Tarkett North America said it will implement a new carbon strategy that will ultimately make real changes to the way the company makes its floors, reducing impact rather than offsetting it.
Earlier this year, Tarkett unveiled its Climate Roadmap for 2030, which includes a commitment to reduce greenhouse gas emissions across the value chain by 30% by 2030, fully in line with the Paris Climate Agreement target to reduce global warming. to be limited to 1.5°C. To fully understand these efforts, Tarkett has been evaluated and assessed by the independent organization Science Based Targets (SBTi) to confirm its reduction targets, including emissions from its own operations and its purchased energy, as well as those of the rest of its value chain. from suppliers to end customers.
Over the past decade, Tarkett has reduced greenhouse gas emissions by 38% through a combination of renewable electricity, closed water systems and responsible sourcing of raw materials. The company said it is now accelerating that progress with its new carbon strategy under the 2030 Climate Roadmap. The company recently achieved a B-score from CDP, which represents the second highest level of maturity a company can achieve on the world's leading climate performance platform.
"As we work to reduce emissions to zero, we believe that Tarkett and every company should be held accountable for its impact on the environment," said Roxane Spears, vice president of sustainability, Tarkett North America. "Everyone can buy their way to carbon neutrality on paper. At Tarkett, we want to prove real impact."
With this carbon strategy, Tarkett North America will have completed detailed life cycle assessments (LCAs) across its entire TNA product line by the end of September. By taking this approach, the company said it can identify — and solve — the fundamental problems of which ingredients and processes contribute to each product's carbon footprint.
"The purchase of carbon offsets has enabled Tarkett North America to contribute to several important projects around the world, but it is not an adequate long-term solution for net zero carbon," Spears said. "Companies often consider the CO2 neutrality box checked. Although in reality so much more work needs to be done to actually reduce the impact rather than simply offset the impact."
Net Zero Carbon is a journey with Tarkett. Until the company achieves this goal, Tarkett said it will still offer to neutralize its remaining carbon emissions by investing in offsets. However, the shift in strategy means that this compensation is no longer applied automatically, but is available to customers who request it.
Tarkett's 'Proof in Every Step' sustainability initiative focuses on three core pillars: setting new transparency standards, strengthening the next step in the value chain and creating a healthier future.
This initiative is supported by decades of evidence from Tarkett North America:
Launched the first full floor recycling program in 1994.
Started third-party verification of environmental impacts two decades ago.
Became phthalate free while others were still discussing the safety of phthalates.
Now the company is setting the standards of tomorrow:
97% of the raw materials Tarkett uses are assessed against the Cradle to Cradle principles for human and environmental health.
99% of Tarkett's flooring solutions have low VOC emission levels, which are 10 times lower than the strictest world standards.
The company reduces resource consumption through closed water systems and renewable energy and has 14 factories that do not send waste to landfill.
Tarkett reveals raw material levels of up to 100 parts per million in each floor to provide a sustainable foundation for its customers to build on every step of the way.