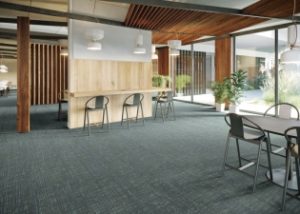 Tarkett adds Dynamic Edit soft surface series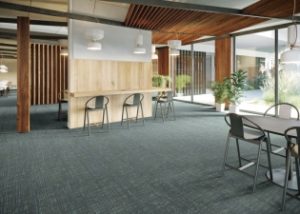 Solon, Ohio— Tarkett adds to its portfolio of sustainable products for soft surfaces with the Dynamic Edit series, a new modular carpet collection inspired by the continuous process by which interior spaces evolve over time.
"Like life, the design process is a constant movement between testing, adapting, learning and improving," said Tommy Keener, senior design director for Tarkett North America. "Even when we are physically still, our minds continue to grow and reflect – a dynamic force for continuous progress. Every day we are given two choices: evolve or repeat. The series celebrates the opportunity we have in this industry for continuous movement and growth. "
The Dynamic Edit series celebrates this creative process with five patterns and comfortable price points that allow designers to freely mix, match, add and edit their spaces, the company said. Each of the five styles is available in 12 colorways, and Tarkett's Solution SPECtrum aims to give designers even more versatility by providing access to the company's full palette of colours, patterns and textures that visually work together across multiple product categories, enabling the perfect balance is created for people, planet and performance.
The Dynamic Edit series includes a number of patented technologies that contribute to a healthier indoor environment, faster installation, easier maintenance and a healthier planet. Tarkett's ethos Modular with Omnicoat technology prevents moisture, pH or previous adhesives from affecting the floor installation. In combination with TarkettTAPE, ethos can be installed without a moisture test, saving one to three days of installation time.
In addition, Tarkett's Dynex SD premium fiber system includes Eco-Ensure, a fluorine-free soil protection technology that is said to reduce maintenance costs and create healthier spaces by promoting better indoor air quality with low VOC emissions.