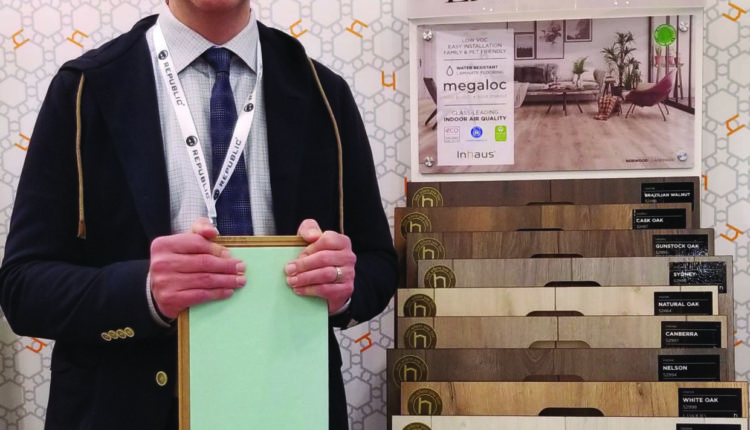 Surfaces '22: Influx of intros reflects laminate's resurgence
Standout colors include Snow Drop, based on a European oak pattern, and Triton, an incredibly realistic handscraped look in a warm, brown tone. To ensure color exclusivity, Inhaus sources lumber that's electronically scanned, then it produces the plates to digitally print the images directly on the product.
TimberStep—Dream Weaver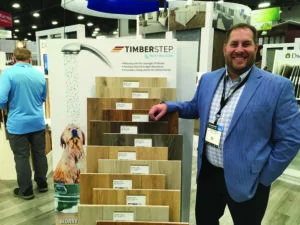 Everybody's getting into the act with laminate these days, and at Surfaces that included companies like Engineered Floors. For Dream Weaver, the residential flooring brand for EF, the move into laminate did not involve a lot of soul searching.
"Laminate is one of the fastest growing product categories in flooring," said Eric Ruppert, residential brand manager who oversees all brands for Dream Weaver. Branded Timber Step, Dream Weaver's water-resistant laminate, is sourced from Kaindl, a European manufacturer, and will be housed in north Georgia.
Tymbr—The Dixie Group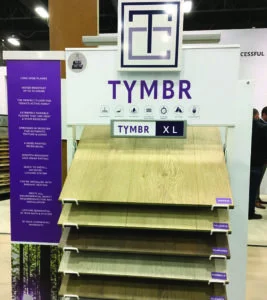 First, The Dixie Group entered the hard surface arena with a line of rigid core offerings under the TruCor brand and hardwood under the high-end Fabrica label. Now, it's throwing its hat into the suddenly resurgent laminate arena with Tymbr, 7 1⁄2 inches wide x 72 inches long, with a four-sided painted micro bevel and EIR for authentic texture and looks.
"Laminate has fought its way back," said TM Nuckols, president of the residential division of TDG. "Laminate has improved and can go in places that maybe you wouldn't have put it in a few years ago. Our testing has shown that it is more water resistant than many of the other laminates out there."
Smart Floors—Torlys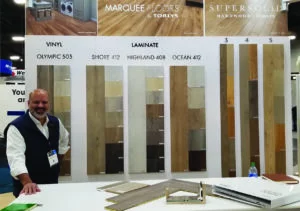 Known for its 30-year history of product innovation across various categories—particularly when it comes to performance attributes in hard surface—Torlys is now putting more of the spot-light on the environmental attributes of its product offerings. That includes its line of innovative laminate products marketed under the Smart Floors banner.
"Floors so nice you'll use them twice," is how Peter Barretto, president and CEO, summed up the campaign. The click nature of laminate flooring, along with its ease of assembly, according to Barretto, make it an ideal choice for today's shoppers. "Consumers, especially millennials, are thinking repurpose," he said. "That dovetails with our company's emphasis on the three Rs—Reduce, Reuse and Renew."