Sunshine on a Ranney Day selects SolidTech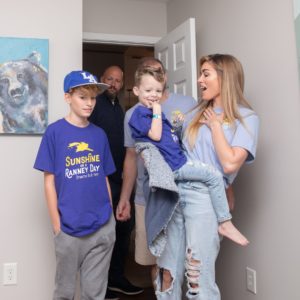 Calhoun, Ga.—Sunshine on a Ranney Day, an Atlanta-based nonprofit that reinvents and builds custom rooms for children with special needs, chose SolidTech for its latest makeover: a playroom for 4-year-old Reese.
"Reese's room was designed as a place of rest for him after a rough patch," said Joe Lane, executive director of Sunshine on a Ranney Day. "Each element was brought together to give it a relaxing, beautiful space. We're so excited to be working with our longtime partners like Mohawk to bring Reese's amazing playroom makeover to life."
In remission from acute lymphoblastic leukemia, Reese receives chemotherapy and takes a revolutionary drug to help eliminate the Philadelphia chromosome, a rare chromosome he was diagnosed with that tells his body to keep making cancer. The company said this playroom will give Reese and his older brother Jett a sanctuary where they can take their minds off the heaviness of the season they're in.
"We are honored to partner with Sunshine on a Ranney Day on this space," said Seth Arnold, vice president of marketing, hard surface, Mohawk. "We know our floors will see a lot of playtime. Reese and Jett will have our floors as a foundation to create, build and pretend together – which they have nothing to worry about except being kids."
SolidTech Select Founder is waterproof, dent resistant, pet friendly and stain resistant with enhanced visuals.