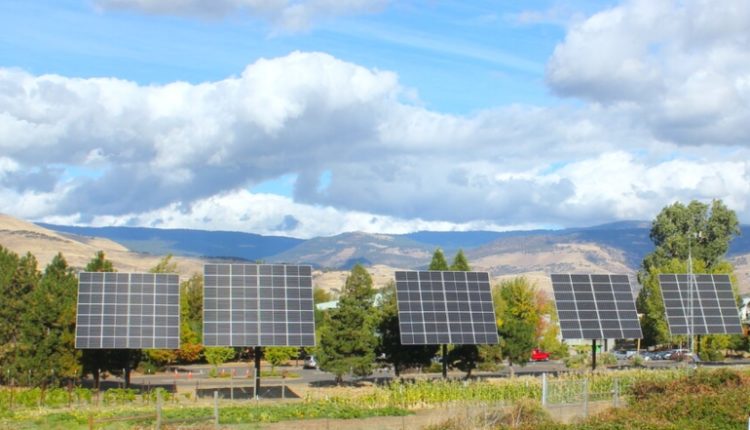 STracker Solar installs dual-axis trackers at Southern Oregon University for agrivoltaic research
STracker Solar of Ashland, Oregon, has installed three new patented STrackers in the north end of Southern Oregon University's Sustainability Farm, next to the ScienceWorks Museum parking lot.
The new elevated PV dual-axis trackers are in line with the three existing STrackers that have been producing clean local solar energy since August 2019. They will serve as a platform for "agrivoltaic" and other student research at SOU.
"Southern Oregon University is committed to renewable energy," said Vincent Smith, director of SOU's Division of Business, Communication and the Environment. "We are excited to partner with STracker Solar to promote renewable energy both at SOU and across our community."
The STrackers will provide consistent solar power to the community over the next 25 to 50 years, and plans are in the works for a DC bus charging station in the ScienceWorks parking lot. The project was funded and built by Ashland business owner Brad Roupp, and the power produced is allocated to ScienceWorks and other local properties through the city's virtual grid metering program.
"Energy resilience and a secure energy infrastructure are important elements for us to meet Ashland's current and future energy needs," said Brad Roupp, owner of Abbott's Cottages. "With these additional three STrackers, along with the three units we installed in 2019, 100% of the electricity used by our business, home and vehicles is provided by the sun. The STrackers have proven to be the most efficient and reliable systems for generating solar energy, and because they can continue to use the terrain below, they fit perfectly into urban environments."
During the week these units were installed at the SOU Farm, STracker Solar also completed a project with two STrackers at Ashland Family Dentistry to provide the power needed for the practice's electricity consumption.
"We are proud to be the first Net-Zero electrical medical practice in Ashland," said Dr. Brandt Cullen, owner of Ashland Family Dentistry. "Our two STrackers will supply all the electricity we use (something PV on roofs couldn't) and we're already getting compliments from our patients."
A few days earlier, STracker Solar had also added three new units for Oak Street Tank & Steel. This installation compensated for the manufacturing energy used in-store in the production of the UL Listed STrackers.
"What a thrill to install so many STrackers in a week. We are grateful to SOU, the city, site owners, investors and installation teams for making this so fun and efficient," said Jeff Sharpe, founder of STracker Solar. "It's great to see how local businesses are committed to energy conservation, resilience and sustainability.
"This is exactly what STrackers were developed for, to transform our city into true energy sustainability, greenhouse gas reduction and clean energy jobs," Sharpe continued.
News item from STrackers