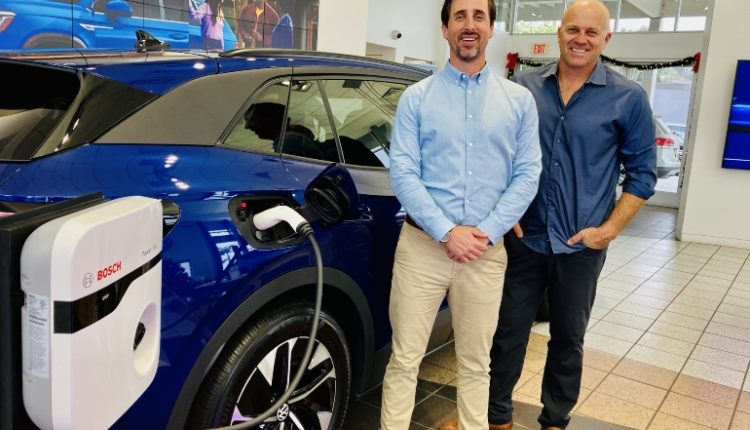 Stellar Solar partners with car dealership to offer solar + storage solutions to EV customers
Contractor from San Diego, California Stellar Solar Energy installs a 65 kW array at Herman Cook Volkswagen in Encinitas. The system will use 135 QCells 480W panels, producing enough power to fully offset 104% of annual electricity consumption.
"First, we are excited to make the switch to solar energy," said Connor Cook, Herman Cook Volkswagen CEO and co-owner. "And to do it with a local company with such an established track record of success and expertise in solar, battery storage and electric vehicle connectivity was just a bonus. It was their slogan of 'Electrify Your Life' ' who made forming a strategic partnership and offering their full range of services to our customers a no-brainer. I'm excited to be at the forefront of this and contribute to the clean energy movement."
In addition to powering the dealership, the strategic partnership with Stellar Solar Cook will provide VW customers purchasing electric vehicles with a full range of clean energy solutions, including solar, battery storage and EV connectivity to power their cars. The partnership is the first of its kind between a car dealership and solar energy company in San Diego County, and was formed for the diffusion and widespread adoption of electric vehicles.
"First, I'm thrilled to be working with such an iconic family business in North County," said Kent Harle, co-founder and CEO of Stellar Solar. "Cook VW's history is rich in Encinitas and their growth mirrors that of the area. Using solar energy and offering our clean energy solutions to their customers is a perfect example of leading the way and providing what homeowners in the area demand. As well as solar, we have established ourselves as the go-to source for battery storage and electric vehicle connectivity and with Cook VW's amazing range of electric vehicles, this is an exciting time for both of us."
News from Stellar Solar