Stäubli – Connections For Sustainable Change
The success of a solar photovoltaic (PV) installation comes down to reliable, efficient and long-lasting performance. With Stäubli Renewable Energy as your partner, you benefit from our highly accurate solutions and decades of experience in harnessing solar energy.
Stäubli connectors offer an impressive track record, connecting more than 540 GW globally – more than half of the world's cumulative PV capacity. Our original MC4 connectors and custom solutions for electrical system balance (eBOS) applications enable PV profitability for sustained success.
There is only one original MC4 PV connector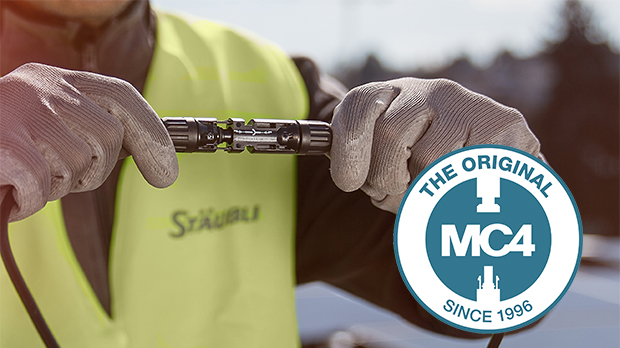 The original MC4 is the world's leading PV connector designed and developed by our in-house experts over 20 years ago. As the most installed PV connector in the world, the MC4 continues to set new industry standards through our commitment to excellence and innovation.
Manufactured with Swiss precision, Stäubli connectors provide optimum efficiency and long-lasting performance for small to large-scale PV systems. When selecting connectors, rely on the original to ensure your operations will be safe and durable for decades to come.
The original MC4
Invented by Stäubli engineers in Switzerland
Manufactured in accordance with European conformity
MC4 is a protected trademark of Stäubli
Your one-stop partner for PV connections
The Stäubli Renewable Energy eBoS application components and products stand for reliability, safety and the highest Swiss quality – products that you will gladly pass on to your own customers. And by offering the high quality Original MC4 PV Connector you also get a new business partner for your customers. The lasting alliances between us and our business partners are proof of mutual understanding and trust.
The reliability of our product solutions is the technical basis for making your installations safe for long-term use. We also recommend our services and support to ensure accurate handling and implementation of our products for your individual needs – to make your customers' lives easier and your installation successful.
Minimize the risk. Maximize returns.
By choosing Stäubli's high-quality MC4 PV connector for your PV projects, you create a solid foundation for success while minimizing risk while ensuring efficiency and profitability. A consistently low contact resistance of the PV connectors is essential for efficient operation and safe energy supply. Increasing the contact resistance, e.g. due to poor material properties, can weaken the efficiency of the entire PV system.
Advanced contact technology
The core of the Stäubli PV connectors is the innovative MULTILAM contact technology. This unique contact principle is distinguished by multiple contact points that improve connection quality and energy transfer thanks to constant spring pressure and unique design. This results in a consistently low contact resistance, guaranteeing safe and durable operation and significantly reducing downtime and service costs.
This distinctive contact technology minimizes the risks of power outages, hotspots or even a fire which can lead to huge reconstruction costs. The original Stäubli PV connectors of the MC4 connector portfolio are very stable in terms of temperature and show no heat build-up.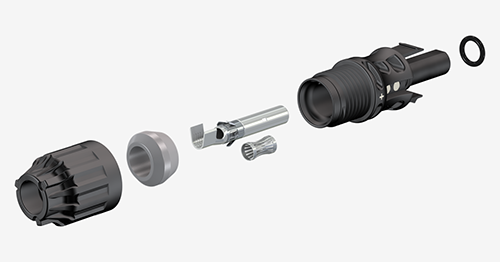 It pays to trust the original
Today, more than half of the world's cumulative PV capacity is connected to our components. The Original MC4 from Stäubli offers unparalleled quality, durability and reliability for all types of PV installations.
Stäubli has continuously set the benchmark for PV connectors in the solar industry. In 1996, starting with the launch of the original MC3 and then the MC4 PV connector in 2002. More than 2 billion Stäubli connectors have been installed in solar power plants worldwide – and our growth continues thanks to our partners who recognize that quality both short term and long term.
Using our innovative and patented MULTILAM contact technology, the core of Stäubli PV connectors comes with multiple contact points to improve connection quality and energy transfer. Thanks to the MC4's unique design and constant spring pressure, the connectors offer low contact resistance to ensure safe and long-lasting operation. In addition, the connectors are very stable in temperature and exhibit no heat build-up, which can significantly reduce downtimes and service costs.
Lasting value with every connection
Our solution-oriented services help reduce the complexity of your photovoltaic energy project. As a collaborative partner, we work with you and the solar PV value chain to enable long-term success for your solar power plant.
The rapid dynamism of the solar industry has led to fierce competition that makes having an experienced partner by your side an undeniable advantage. We understand the key elements needed to make your PV project succeed today and thrive for years to come. In addition to our comprehensive portfolio of high-quality eBOS components, we can also add value to your business with our expert service.
Our global team of highly skilled technicians can help train your staff and support operations to ensure everything runs safely and smoothly. We care about the details and the performance of your installation – our service experts are committed to quality and will find the best solution to reduce risk and ensure higher yields from your PV systems.
Stäubli Electrical Connectors develops advanced connection solutions based on the reliable MULTILAM technology and offers connections for life in industries such as industrial automation applications. In the renewable energy sector, Stäubli is a pioneer and global market leader in photovoltaics with its MC4 connector portfolio that has set the industry standard. Stäubli Renewable Energy has been active in this market for more than 25 years and is laying the foundation for sustainable change. https://www.ecs-ecart.com/
Sponsored Content by Stäubli