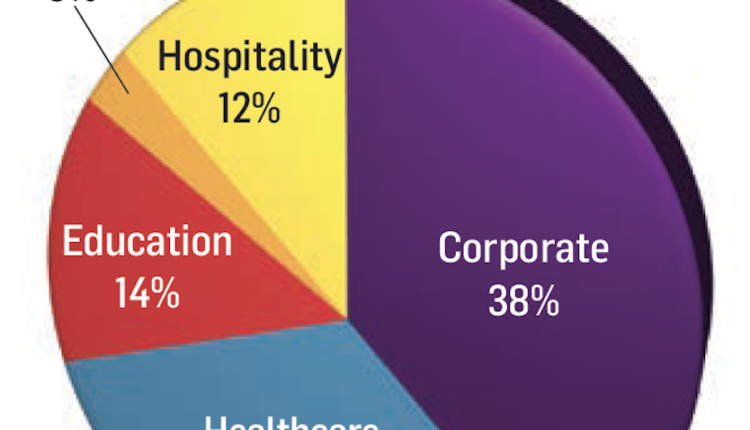 STATS Commercial: Healthcare the bright spot in 2020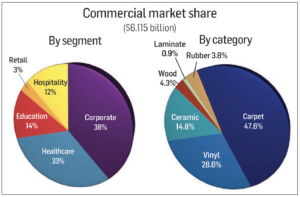 By K.J. Quinn While some segments of the residential replacement market actually benefitted from consumers and homeowners quarantining in their residences during the height of the COVID-19 pandemic in 2020, the same cannot be said for the commercial sector. FCNews research shows commercial flooring revenues (including specified business as well as Main Street sales) totaled $6.134 billion last year—a falloff of 11.1% compared to 2019.
The corporate market took the biggest hit in 2020 as its share fell from 42% of sales in 2019 to approximately 38% last year. This despite a slight buffer from uncompleted projects that were already in the pipeline before the pandemic hit. Hospitality and retail were also negatively impacted as the segments' share of the commercial market slipped to 14% and 3%, respectively. While the education market remained fairly stable at 14% of sales, it was healthcare that saw its share of the market grow to 33% in 2020, up from 28% of commercial sales in 2019.
"Every commercial sector was negatively impacted, but some performed better than others," observed David Thoresen, senior vice president, product and innovation, Armstrong Flooring. "The projects within healthcare shifted from planned projects to emergency needs. However, sectors like education and hospitality ground to a halt as budget and travel restrictions were significantly pulled back."
Much like the residential market, the commercial flooring sector experienced a surge—albeit a mild one—toward the end of 2020. Industry observers say the first and fourth quarters of 2020 performed significantly better than the second and third quarters. "Education, retail, healthcare and multifamily housing were the first segments to show signs of recovery," said Jim Poppens, president, Interface Americas. "We anticipate demand strengthening throughout 2021 as major companies facilitate their employees returning to the office."
Hard surface surge continues
Commercial hard surfaces, despite experiencing a down year, continued to seize share from soft surfaces. While carpet's share of the commercial market slipped from 53.9% in 2019 to approximately 47.4% last year, resilient, ceramic and hardwood saw their shares of commercial flooring specs grow to 28.7%, 14.8% and 4.3%, respectively. No surprise that resilient flooring and all its iterations continue to lead the pack. "As facilities look for ways to improve infection control and simplify cleaning procedures, resilient surfaces are inherently designed to meet these needs," said Adrienne Roseman, senior director of product management, Tarkett.
Resilient suppliers typically enjoy growth across most end-use segments, the pandemic changed all that. "Healthcare and education continued to be sales drivers in 2020," said Noah Fulton, vice president of business strategy at Karndean Designflooring. "But the hospitality and retail segments were sluggish due to pandemic-related shutdowns."
In that same vein, not all sub-categories under the broader resilient umbrella performed equally. "We're still seeing a lot of growth in SPC rigid core and WPC lines," noted Whitney LeGate, vice president, commercial LVT, Mannington Commercial. "But it's still such a limited market segment for where LVT can go into the commercial marketplace."
VCT, which represents about 11% of commercial resilient sales, remains limited to certain markets. And even the tried-and-true linoleum category, which is predominantly specified, saw its share of resilient commercial sales fall from 5.9% in 2019 to 4.9% last year.
Ceramic tile, whose share of commercial hovers around 15%, benefitted from the activity seen in healthcare applications. "There's a tremendous growth opportunity for the tile category, as we continue to see the demand for sustainable and easily cleaned hard surface product selections," said Whitney Welch, vice president commercial sales, Dal-Tile.
Soft surface situation
Soft surface commercial sales were approximately $2.9 billion in 2020, with roughly three-quarters of the business generated from specified contract and the remainder from Main Street applications. Carpet tile remains the dominant format, accounting for roughly 60% of sales.
"Dealers and installers appreciate the easier materials access, handling and installation provided by carpet tile and how it results in less waste at the end of the job," Interface's Poppens said. "In addition, end users see benefits from lower total cost of ownership, less site downtime and selective replacement to extend project life."
Broadloom continues to be stressed by the conveniences offered by modular carpet tile. "There is a bifurcated broadloom market between high end, highly specialized products in aviation and hospitality and then the low-price needs of the CRE/TI space," said Mike Gallman, president, Mohawk Group. "We are seeing growth, though, in commercial rugs to help control sound where hard surface flooring has been installed."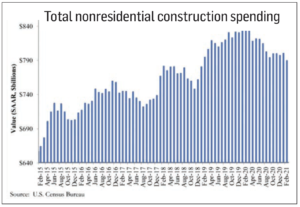 Corporate offices
While the five major commercial sectors each face macro issues influencing flooring choices, much of the conversation about specifications centers on meeting health and safety concerns. Corporate offices, traditionally the largest sector, saw market share fall off as many businesses closed, suspended operations or saw occupancy levels plummet as most employees worked remotely. The carryover effects from the pandemic continued into the first quarter of 2021, with leasing activity and occupancy rates on the decline. "The office workplace, retail and healthcare were close to dead in 2020, as were the momentum of specifications, conversations and, of course, sales," noted Al Boulogne, vice president, commercial sheet, rubber and distribution, Mannington Commercial. "There was very little happening with resilient in those segments."
As COVID-19 vaccination rates continue to rise, businesses are putting together plans to bring employees back to the workplace. "People are working remotely, but companies in Silicon Valley are bringing employees back to work," Roppe's Trattner said. "You still have a floor and many spaces within the workplace that are going to gravitate toward products they can trust to be easy to maintain and minimize spread of germs, dust and indoor air contamination."
When employees do return to work, they can expect to see new office layouts designed to provide a safe and protected environment. "Companies are reconfiguring portions of their office footprints to create more open, collaborative space, and this is a large opportunity for us as we work with our customers to design spaces for resiliency," Interface's Poppens said.
The workplace is among the most diverse segments in terms of flooring choices. Carpet tile represents more than half of commercial flooring found in office spaces while broadloom remains a favorite in speculative workspaces and positioned as a cost-effective initial investment. Resilient, hardwood, porcelain tile and polished concrete are being specified for entryways or high-traffic areas.
There are several trends influencing flooring selections in the office. For example, "resi-mercial" design—featuring a blend of residential and commercial features—will continue to take hold. Sustainability remains top of mind with designers for any commercial project, as companies remain committed to reducing corporate carbon footprints. And biophilic design continues to pick up steam, creating a connection to nature inside and outside of a space that can reportedly boost health, wellness and productivity.
Healthcare
Similar to office spaces, healthcare—a mixed bag with clinics, doctor's offices, assisted-living communities and urgent care centers—is preparing to keep up with the rising number of people entering their facilities, including aging baby boomers, and rethinking interior design to accommodate patients and families who occupy these spaces. Healthcare remains a bedrock segment for sheet goods and rubber, especially in areas requiring high sanitary levels such as emergency, operating and treatment rooms. This year is projected to be a rebound year for the segment considering accelerating construction and renovation activity. A major beneficiary is expected to be resilient flooring, as the pandemic heightened emphasis on floors that meet health and safety considerations. "The challenge is how these floors will be maintained," Roppe's Trattner explained.
Carpet and LVT are utilized primarily in non-patient areas, such as waiting rooms and medical offices, although some experts are bullish about growth prospects for senior living spaces. Natural materials such as ceramic tile, hardwood and linoleum are positioned as sustainable options. "The healthcare segment [for tile] is anticipated to grow in 2021, specifically clinics, assisted-living communities and urgent care centers," Dal-Tile's Welch said.
Hospitality
While hospitality was among the most adversely impacted by the pandemic, it also caused facility managers to raise the bar for hygiene and cleanliness standards while creating massive changes to ensure the safety and health of guests and staff. "In hospitality, factors impacting growth included travel restrictions, cancellation of shows, conferences and conventions, individuals opting for 'stay-cations' and DIY home improvement projects," Mohawk's Gallman said.
Sustainability remains an important consideration for hotel renovation and construction, as "green" tourism remains an important consideration for potential guests, according to industry studies. For example, major renovations are taking place to convert otherwise empty guest rooms into office spaces. Meanwhile, existing rooms are reportedly being remodeled to serve as multifunctional areas for guests working remotely.
Product-wise, LVT/P is gaining coverage in all spaces, especially in guest rooms. Broadloom and modular carpet continue to represent a sizable amount of commercial flooring sold to these spaces. Tile is also well suited for hospitality, particularly hotel entrances, foyers and bathrooms.
Education
Builders are happy to see class back in session, as a bustling construction market is expected to pick up where it left off prior to the coronavirus outbreak. Much of this work is taking place in K-12 applications.
Safety relating to COVID-19 remains the most pressing concern. Educators are reconfiguring interior design and layout throughout their buildings to not only maximize space and accommodate students, but also abide by regulatory requirements covering indoor air quality, sustainability and maintenance. This trend is reportedly influencing the selection of furnishings and finishes that contribute to LEED and WELL building standards.
The K-12 sector accounts for the lion's share of flooring sales in education, with the rest coming from higher education, industry estimates show. Carpet tile is the dominant product in education, namely because of its installation and replacement advantages.
An even bigger chunk of the business (about 50% to 60%) comes from hard surfaces, as its versatility enables it to be found in virtually all learning environments. Education is a key end-use market for VCT, while rubber and linoleum are positioned as green flooring choices. Suppliers estimate nearly half of linoleum sales are generated from this segment.
"K-12 is where the growth was because there were a lot of bond issues out there," said Denis Darragh, general manager, Forbo Flooring Systems, North America/Asia. "There was a lull in April as everyone was trying to figure out how to work on jobsites. But by May, the market started to rebuild."
LVT checks most of the boxes for school building needs and nearly every area offers growth opportunities. Rubber flooring, especially homogeneous rubber flooring, remains a viable option. "The challenge is you have to be able to tell the value story about the overall cost and use," Roppe's Trattner said. "It's easy to put down a lower cost, entry-level product, but it does not have the same longevity."
Retail
Retail could serve as the poster child for businesses most adversely impacted by the pandemic as evidenced by the significant number of empty mall parking lots and vacant storefronts last year. "A lot of restaurants, small businesses, shops and boutiques closed due to COVID-19," noted Dave Sheehan, vice president, residential resilient business, Mannington. "And if they did survive, the last thing they thought about was doing something to their floor."
The survivors were forced to rethink their setup to address the changing dynamic of in-person shopping. "In workplace/retail, the number of corporate office closures and individuals working remotely, along with an increase in online shopping, negatively impacted retail stores," Mohawk's Gallman surmised.
Flooring choices in retail are wide ranging. For example, ceramic, wood and carpet are often specified in high-end spaces while resilient and rubber flooring are found in other public areas. LVT remains a leading flooring option, but some industry members question whether the product is meeting lofty expectations for performance and maintenance. "Questions are being asked about claims surrounding being waterproof, plus drag marks, wear layers and print film," Roppe's Trattner reported.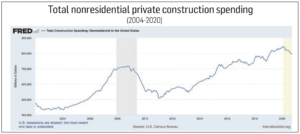 Short-term outlook
While no one can predict with certainty when conditions will improve, industry watchers are optimistic the answer is sooner rather than later. "The year 2020 was different in terms of the percentage of business that went into each segment," Mannington's LeGate said. "I think 2021 will be more of a return to normal."
Karndean's Fulton also expressed optimism. "Some sectors have been negatively affected, but others have the green light to return to construction or are reinvesting in projects put on hold during the height of the pandemic. We feel optimistic that overall health will return to commercial in the back half of 2021."
Mohawk's Gallman summed it up this way: "The challenge forecasting the remainder of 2021 is largely around the varying recovery rates in different regions. The good news is all are positive, and we believe the market will continue to increase steadily as the year, and the recovery, progresses."