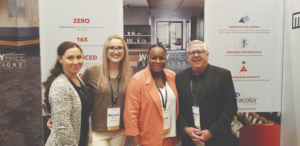 Starnet doesn't miss a beat after two-year hiatus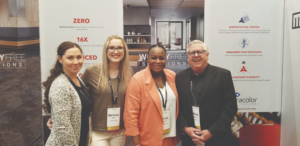 Colorado Springs— Starnet, the industry's largest network of full-service, independent commercial floor contractors, celebrated its 30e anniversary conference in grand manner here earlier this month amid record attendance. It was exactly what the commercial flooring industry needed after event cancellations/postponement in 2020 and 2021 due to the novel coronavirus pandemic.
"We are witnessing history here," said Mark Bischoff, Starnet president and CEO FCNews on the show floor during the exhibition portion of the conference. The numbers don't lie. Starnet figures show that more than 720 people registered for this year's convention — the most in its history. In addition, Starnet reported a record number of spouses and guests at the event, which was held at the sprawling, picturesque Broadmoor Resort and Conference Center.
Starnet vendors and suppliers at the event said they were happy to be back in action. "It's great to be here in front of this group," said Paul Murfin, president of Taylor Adhesives, a new Starnet supplier. "We are an ideal partner for Starnet and we have a range of commercially valued adhesives and coatings ideally suited to Starnet contractors and their customers."
Mike Gallman, president of Mohawk Group, agreed. "Not only is it good to be here with our customers, but business is good," he said FCNews while visiting contractors packed the booth† "We're seeing business bounce back in most of the end-use markets the Mohawk Group is targeting."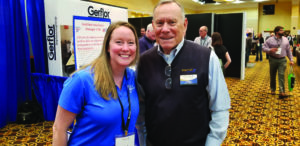 Don Styka, director of field service at Tarkett, also said he was pleased with the turnout. "The industry was too late to get back together," he stated. "We were away from this group for a few years because of the pandemic, but it's great to see our customers here in person again. There are a lot of people here this week, which shows the support for the industry."
Starnet sellers are not alone in their jubilation. Many of the group's 180 or so contractors — many of whom hadn't seen each other since the co-op's fall 2019 conference — were happy to be rubbing elbows, pumping fists and shaking hands again. "The ability to network in person is powerful," said Dave Triepke, CEO of Universal Metro, a member from Tustin, California. "Virtual meetings are now with us and another is now acceptable – and sometimes the best – medium for meeting. However, the opportunity to meet in person remains the most incredible way to create synergy."
Grant Petruzzelli, president of Universal Metro, agreed, adding: "The anticipation of a live event was exciting in many ways. Prior to the pandemic, every Starnet event was a revival of old friendships and connections, but this year was different. It had been nearly three years and all of our members and supplier partners had been through so much, both personally and professionally. We engaged each other wholeheartedly, showed understanding for the adversity we faced and enthusiasm for the opportunities ahead. It was a special event and one where I connected with other Starnet participants on a higher level than ever before."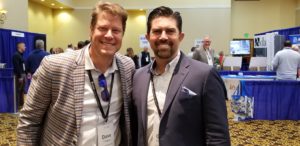 Ditto for Cheryl Acierno, owner of the Denver-based floor contracting company that bears her name. "It felt great to be back together after such a long time," she says. "There was more enthusiasm and participation at this meeting than many others I remember. And the turnout was huge! Everyone seemed to enjoy interacting with each other."
The fact that the event was held in her "backyard" was a huge plus. "The location was just perfect," Acierno added.
Other companies, including Menomonee Falls, Wis.-based Lippert Flooring and Tile, cited networking opportunities as the main draw. "The chance to meet as a group of colleagues and partners is always helpful, but after a two-year suspension, it felt especially good," said company chairman Les Lippert, who is completing his seven-year tenure on the Starnet board. "There are a lot of really excellent people in our cooperative and in our supplier partners' businesses. Missing out on our dealings with them hinders the progress made in our relationships and in our growth and development of our businesses. Starnet provided an opportunity to revive our wonderful relationships; doing business is best done face-to-face. The enthusiasm of all parties was more than palpable; it was very strong."
Finger on the pulse of the commercial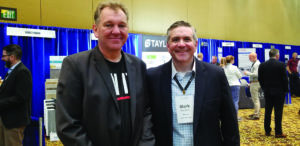 Just as so many Starnet contractor members were delighted to be back in front of their colleagues and supplier partners, most said they were also encouraged by the new opportunities they see in the commercial market, as some segments show signs of recovery. This is especially true for sectors such as healthcare and education.
"As a healthcare leader for decades, we had to face huge challenges with our customers during the pandemic," explains Petruzzelli of Universal Metro. "As that industry normalizes and outpatient activity picks up, we expect deferred maintenance to become a priority as the need for hospital beds increases. Capital projects are bidding and starting to release again, signaling a strong rebound in that market."
(For the full story, see FCNewsMay 23/30 print edition, available May 30.†